Will Coldwell, The Guardian, May 6, 2015
Meadows in the Mountains, Bulgaria
With a wild camping vibe – bonfires, small stages and bunting in the trees – Meadows in the Mountains has built a reputation over the past five years for offering a uniquely magical experience. Set in the lush environment of the Rhodope Mountains, mornings are blessed each day with a mist that glides over the landscape. The discerning line-up will pique the interest of anyone with an eye on the underground scene: Jane Fitz, Al Dobson Jr and Mo Kolours are among the headliners, while Quantic is probably the best-known name in a line-up that spans techno, house and soul.
• 12-14 June, £150, meadowsinthemountains.com
Festiwal Tauron Nowa Muzyka, Poland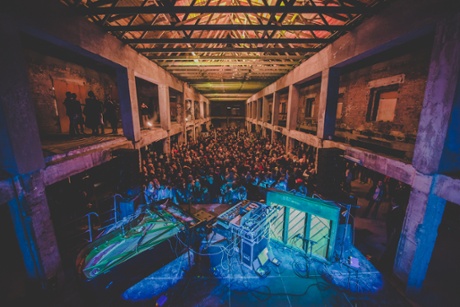 It sounds like the plot of a horror B-movie - a group of kids hopping on to the site of an abandoned coal mine for a rave. But that's where this avant-garde music fest in the heart of Katowice will take place. Set between two mine shafts that operated from 1823 until 1999, the festival has a line-up featuring US west coast rapper Tyler the Creator, London-based neo-soul talent Fatima and Detroit techno legend Jeff Mills, who's performing with the Polish National Radio Symphony Orchestra. All this will happen in the old production halls, warehouses and pressure tower of the deserted industrial facility. There are also tours of the site; this year's organiser promises to make an even more unique, dystopian setting.
• 20-23 August , four-day pass £55, festiwalnowamuzyka.pl
Southern Soul Festival, Montenegro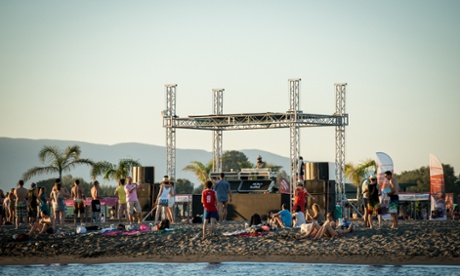 It's straight up sun, sea and soul at this chilled-out festival on Copacabana Beach on Montenegro's Mediterranean coast. Now in its third year, the event brings over 40 acts to three stages on the vast, sandy shoreline. Expect to hear a soundtrack provided by modern soul and electronic music's most forward-thinking producers, DJs and artists. This year's line-up features in-demand digital composers Dorian Concept and Romare, as well as cutting-edge European jazz in the form of the Matthew Halsall Quintet and the Elliptics. Think of it as a musical holiday; this is one festival you'll come back from feeling refreshed.
• 25-28 June, four-day pass £69, seven-day campsite pass £50, southernsoulfestival.me
Mandrea Music Festival, Italy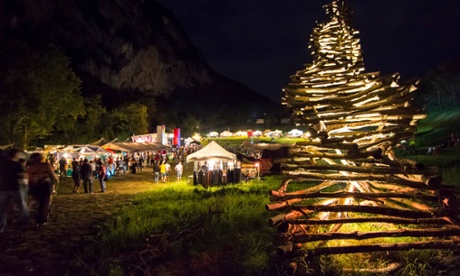 Cool off up in the hilltops at this dub and reggae fest in the foothills of the stunning Dolomites range. Mad Professor and Max Romeo are the headliners of this laid-back event that's as much about exploring (and lounging around in) the peaceful surroundings as it is about the music. The festival site is by Lake Garda, a turquoise stretch of water that's the largest lake in Italy. Around it you can hike, mountain bike and rock climb, but the festival itself offers plenty of distractions, including a cinema, mini-skate park and performance workshops, while the sound systems boom in the background. Bring an airhorn.
• 30 July-2 August, early-bird five-night pass £57, mandreafestival.com
Festival Yeah!, France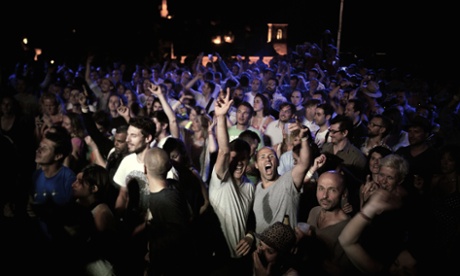 The baby of internationally renowned DJ and producer Laurent Garnier, Festival Yeah! is an easygoing, boutique festival in the pretty French town of Lourmarin. Don't think all-night techno party, think good times, good food and good music spent with family and friends. The line-up is predominantly a mix of indie electro, rock and folk, as well as some DJs. Garnier himself will be spinning tunes in the kids' tent. If that doesn't hook you, then the Saturday afternoon pétanque competition, with a soundtrack provided by deep house crew collective Olé Olé, surely will.
• 5-7 June, three-day pass £45, festivalyeah.fr
Træna Festival, Norway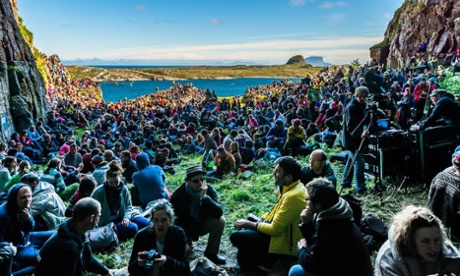 Help increase massively the population of Træna – one of the smallest municipalities in Norway – by showing up for this annual festival on a rugged island surrounded by sparkling ocean and swooping sea eagles. All 500 citizens participate in the event, which has a programme of cutting-edge Norwegian music, including melodic electro-pop from Emilie Nicolas and rowdy beats from KUUK, whom you could safely describe as Olso's answer to stomach-churning South African rap-rave group Die Antwoord. The festival may literally be a bit too "out there" for most UK festival goers, but it's the perfect excuse to explore one of Europe's most dramatic and wild environments (and be able to tell your friends about that crazy band you saw on a lump of rock at the edge of the Arctic circle).
• 9-11 July, £110, trena.net
MS Dockville, Germany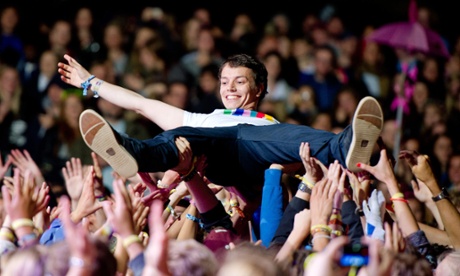 Photograph: Alamy
Not as well-known as Germany's other big festivals, Fusion, Hurricane or Melt!, MS Dockville is a music-and-arts party on the river island of Wilhelmsburg in Hamburg. Colourful installations and artworks dot the festival site, which is surrounded by the warehouses of the city's docks. The line-up should appeal to indie party kids worldwide. This year you'll find Interpol, Django Django, Caribou, Four Tet and Little Dragon on the bill.
• 21-23 August, £70, msdockville.de
Flow Festival, Slovenia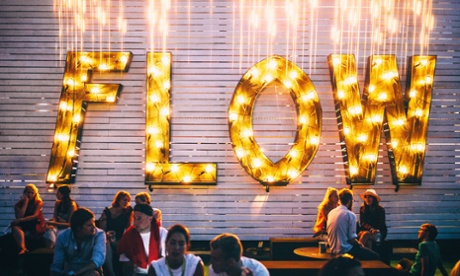 Established in Helsinki, over the past decade Flow has built a repuation for pushing the world's best contemporary music. This year, it travels to Slovenia for the first time, with a sister edition of the festival being held in a 19th-century factory environment in Ljubljana. The line-up doesn't let up either: Metronomy, Pet Shop Boys and Roisin Murphy top the bill, but the presence of Derrick May, Âme and DJ Koze show the techno edge of the event. Just as in Helsinki, the festival will also feature visual arts, film and seminars, with a focus on modern creative culture.
• 26-28 June, three-day pass £68 flowfestival.si
Into the Valley, Sweden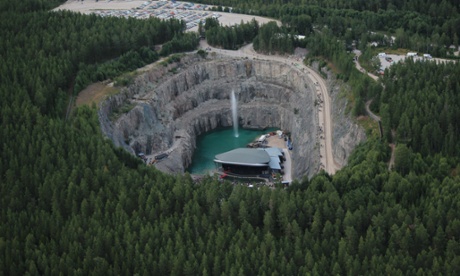 To describe it as a natural ampitheatre doesn't quite do justice to Dalhalla, a former quarry in Sweden with a bright blue pool at the bottom. The dramatic venue is used as a venue throughout the summer, and will be transformed into an open-air club for Into the Valley, a two-day celebration of cutting-edge electronic music. Carl Craig, Ben Klock and John Talabot are among the all-star dance line-up, while bars, food trucks and art installations will entice attendees to explore the magical environment further. As they put it: "The limestone quarry transforms into a stew of deep electronics and artificially created light." This year is the festival's debut and it already looks set to make a big impression on the party circuit.
• 31 July-1 August, £115, intothevalley.se
Paradise City, Belgium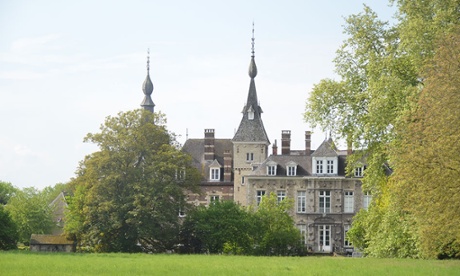 Kasteel de Ribaucourt in Perk, the setting for the first Paradise City Festival, Belgium.
Just outside Brussels, in the grounds of a 15th-century castle, new eco-conscious event Paradise City aims to create a "green haven" for festival-goers. With a comprehensive environmental policy – think composting toilets, green energy, veggie food and reusable cups – organisers want attendees to consider themselves "citizens of the City of the future". You don't get a ticket, you get a green card. And while you're feeling good about all that, you can enjoy the mix of laid-back indie and electronic music, with Jazzanova, Soul Clap and Matthew Herbert pumping out chilled vibes over the course of the weekend.
• 4-5 July, £57, paradisecity.be
This article originally appeared on guardian.co.uk
This article was written by Will Coldwell from The Guardian and was legally licensed through the NewsCred publisher network.
https://images4.newscred.com/cD1jMDY5MGZkNDEwNjM3N2E4YTlmZGUxZDNjODcxZGVhMSZnPTcyMDU5YzZiMjRlMmIwYzk1NGZhN2MyNzY1MjNiNGRm