Arthur-Bretschneider Park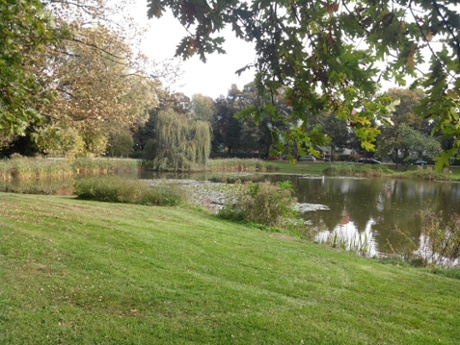 Photograph: Göran Nitsche
Just 3km north of the city there's the beautiful, natural Arthur-Bretschneider-Park. It has a wonderful little pond with lots of lilies on it in summer, several playgrounds, grass to play on and, at its northern end, the Parkbühne am Geyserhaus open-air venue. Here, there are regular concerts with local, national and international artists, but there is still room in its schedule for events by and for kids, youth, adults and seniors.
Göran Nitsche
A beergarden with substance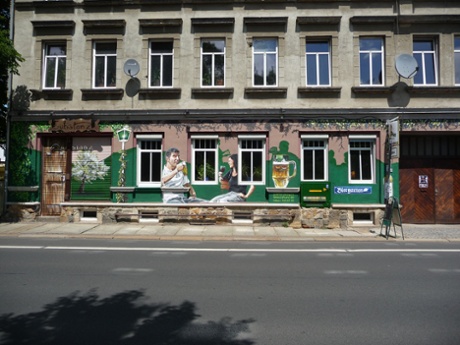 The facade of the Substanz Beergarden Reuditz. Photograph: Kingvisel
Substanz Beergarden Reudnitz (Täubchenweg 67) is one of the best beergardens in town. It's in the quiet and hidden suburb of Reudnitz. From April to October Substanz offers everything from live concerts to the best homemade burgers in the whole of Leipzig. You should be able to smell the fresh barbecure from miles away!
kingvisel
Cocktails on the 'beach'
La Playa beach club in Leipzig.
There are lots of good restaurants and bars on Barfussgässchen right by the Marktplatz. And nearby is the historic beer cellar Auerbachskeller. If you're feeling like going out and celebrating with local people, there are lots of places you can go. How about a beach party with fresh cocktails at the La Playa beach bar? Or dancing alongside Leipzig's beautiful people at Club L1? If you are into alternative or indie sounds, the right place to be would be Elsterartig, which has free admission. Visitors should also check out the cultural centre and former student club Moritzbastei, set up within historic vaults that were originally part of the old fortifications of Leipzig. When she was a student at Karl Marx university, chancellor Angela Merkel was among those who helped restore the structure.
Andy Schulze
Conne Island
In Leipzig's southern quarter, Connewitz, lies the alternative fairground that is Conne Island. Featuring regular gigs from established artists from all over the world, this quaint venue allows fans to get up close and personal with their favourite acts. While also hosting all-night techno events with live DJs, it is a key component in Leipzig's aesthetic and a major player in its bid to be Germany's number one alt destination.
Rob Carr
A stadium for football traditionalists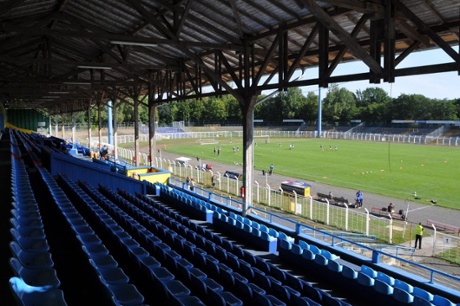 Photograph: Uwe Emmrich-Kießling
The Bruno-Plache-Stadion (nicknamed "das Bruno"), in Probstheida, the home of the FC Lokomotive Leipzig football club, is a must-see for any football fan with its 93-year-old stand (kept almost as it was when it opened). The club was a European Cup Winner's Cup finalist in 1987, losing 0-1 to Ajax, and is well known for its Uefa Cup matches with the likes of Tottenham Hotspur, Wolverhampton Wanderers and Ipswich Town. The beer and bratwurst, fair prices and fair play will also appeal to traditional football fans.
Uwe Emmrich-Kießling
Meet Heinz the goat and enjoy live music
Photograph: https://www.facebook.com/ZumWildenHeinz/
Wilder Heinz is a nice beer garden in Plagwitz, where you can hang out and greet Heinz the goat, or just have a beer. A little improvised, Alpine-style hut, made out of old upcycled wooden parts and windows has concerts on some evenings and a roaring fireplace on cold winter evenings when you can drink mulled wine. It offers fine homemade food too.
Eric Epe
A puppet theatre and hive of creativity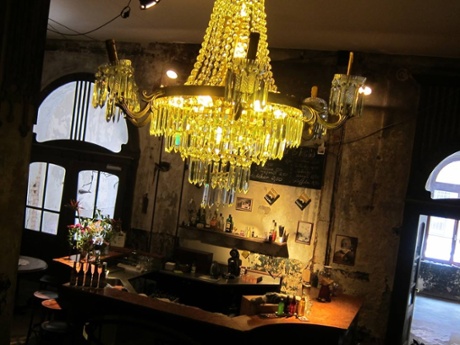 Photograph: bluemelh
Westflügel Lindenfels is in the arty west of the city at Hähnelstrasse 27, in Plagwitz. Neo Rauch's studio is just five minutes away and numerous galleries and cafes are dotted all over the area. The building houses Leipzig's foremost puppetry theatre – with plays being put on nearly every week by Westflügel's own players or international ensembles. The building itself is full of character: it opened as a ballroom in 1900, and became a factory for decades thereafter and only narrowly escaped desolation by being lovingly resurrected in the last 10 years. It is still inhabited by the character of lost places while coming to life on performance nights and every Friday as a cheap and cheerful bar with free concerts, improv theatre and great people.
bluemelh
Through the forest to the lake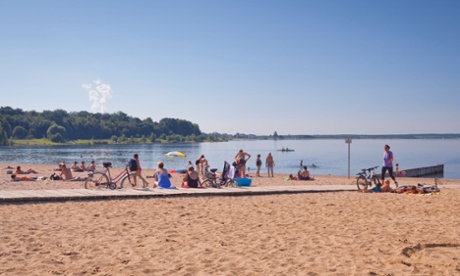 Cospudener See. Photograph: Alamy
The Riverside Forest almost splits Leipzig in two, meaning that you can get from one end of the city to the other without using roads. Register with the public bike hire company Nextbike, get a map and plan a good hour to cycle through the woods to the lake Cospudener See, to the south of the city. The lake is good for swimming and has a cool harbour with restaurants. The cycle around the lake takes around 20 mins. If you are daring enough to get your kit off, there is a beautiful sauna on the lake next to the harbour.
Veraplums
Kristallnacht memorial
Close to the center of Leipzig, you can find the Synagogue Memorial on Gottschedstrasse. It was established in 2001 by the architects Sebastian Helm und Anna Dilengite, to remember the reichspogromenacht (Kristallnacht) of 1938, when followers of the Nazi party burned the 1855-built synagogue to the ground. The memorial shows the ground plan of the old building, with 140 bronze chairs positioned on top of it.
Andy Schulze
Nothing drab about a Trab
Photograph: witness/GuardianWitness
We did a trip around Leipzig in a Trabant, the car that's such a symbol of the former East Germany, and with it you can do a fantastic city tour – much cooler than with a touristic bus. Leipzig is a great city and we had a nice time touring through with "our" Trabi.
Trabant tours and rental with Trabi erleben. Price from €28 per person for a 90-minute tour
Dick Schiferli
This article originally appeared on guardian.co.uk
This article was written by Guardian readers from The Guardian and was legally licensed through the NewsCred publisher network.
https://images2.newscred.com/cD1jMDY5MGZkNDEwNjM3N2E4YTlmZGUxZDNjODcxZGVhMSZnPWQ1MWRlZDEwYTI3NDczN2JiOWQ3MGZlYWI2YWNmZDA5