Tony Naylor, The Guardian, June 19, 2015
'Have a taste of that," says Gwynne Thomas, owner of Conwy Brewery, running his hand through a trough of pale ale malt. "Nice, isn't it? Like breakfast cereal." He moves on to other, darker malts around the room, used in traditional bitters and stouts.
"I wouldn't taste that," he says, gesturing at some roasted barley, "but you're welcome to smell it. It's more smoky and astringent."
Stupidly, I have a nibble. He is right. It's awful, like chewing coffee beans. Clearly, Gwynne knows his stuff. Which is good as, with his guidance, I am about to design my own ale.
In a light industrial unit in Llysfaen, close to the north Wales coast, Conwy Brewery produces 36,000 pints a week, which it sells all over Wales and northern England. Local drinkers in particular lap up its elegant ales, alongside beers from the nearby breweries Nant, Great Orme and, over in Snowdonia, Purple Moose. Indeed, such is the thirst for good beer around here that in a novel collaboration, these four breweries jointly manage Conwy's Albion Ale House and have opened two new pubs, Conwy's Bridge Inn and Porthmadog's Australia. Collectively, they are pioneering a mini-boom in north Wales beer.
Conwy Brewery's design-your-own-beer day (£350 for up to eight) and brewer experience days (£95pp, 01492 514 305, conwybrewery.co.uk) allow visitors to get involved in that production process. Budding brewers are expected to help dig out spent brewing malt from the mash tun. "It's physical work," warns Gwynne.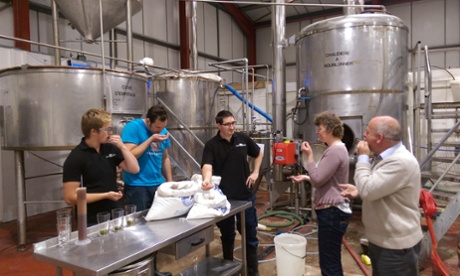 Design-your-own-beer day at Conwy Brewery
Design-your-own-beer days are less arduous, handy as I am squeezing it all into a morning. After an introduction to mashing (where the malt is steeped in hot water) and the resulting wort (beer's sugary base liquid), I find myself, at 11am, drinking a Clogwyn Gold, while Gwynne explains how hops determine a beer's flavour. I like the upfront flavours of modern craft beers and so I go for a fruity, zesty combination of US-style Galaxy, Summit and Cascade hops. Gwynne is more of a traditionalist, but he will happily help guests brew any style: Belgian triple, saison, smoked porter. He promises to dry-hop mine, late on, to boost its flavour.
Recipe calculated, hops weighed and the wort now boiling away, we chuck the initial load in. "The first mash stage is akin to coffee because you're drawing from the grain," says Gwynne. "This hop bit is akin to tea."
Normally, after further additions of hops as the boil progresses, the brewery lays on lunch for guests. Then, in the afternoon, they help cool the beer and strain it into the fermenter, using muslin to separate the trub (hop debris). Brewing being science as much as it is art, guest brewers also have to check the health of the yeast under a microscope, before pitching it into the wort to convert all that sugar into alcohol, carbon dioxide and delicious flavour compounds.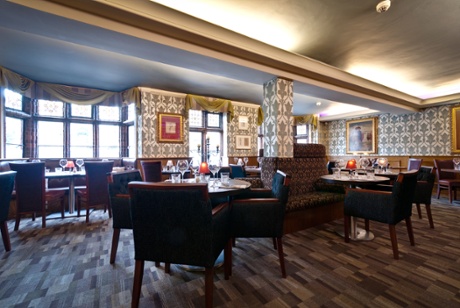 Castle Hotel restaurant
But Gwynne and I have a prior lunch date and so – entrusting my brew to the loving care of the lads in the brewery – we head into Conwy. The Castle Hotel is best-known for chef Andrew Nelson's modern British cooking, though the slick bedrooms (from £135) are top-notch, too.
Over impressive plates of pork belly, braised shin beef and pints of Dawson's Dark (which Conwy brews for the hotel, pint from £3.30), Gwynne explains how he has ended up running pubs with three other breweries: basically, it is a simple way to sell beer. They are rivals but, at microbrewery level, rivalry is usually very friendly, and they had already collaborated successfully on the beer tent element of the October Conwy Feast food festival. "Brewers tend to be enthusiastic about the whole industry, so they talk to one another a lot. Maybe it's just that love of beer and pubs. It's a naturally social industry."
Lunch done, we walk up the high street to the Albion, rather than down to the more family-orientated Bridge Inn on Rose Hill Street near Conwy's famous castle. But first, we stop in wine and craft beer shop Vinomondo at no 19: the owners have just launched Bank of Conwy, a tapas bar and restaurant on Lancaster Square showcasing cutting-edge craft beers. It has 20 draught taps (from £3.50 a pint).
In contrast, the Albion (from £3.10 a pint), on Uppergate Street is a stripped-back 1920s corner pub for purists. There is no TV, no jukebox. "We let conversation reign," says Great Orme Brewery's owner, Jonathan Hughes. Naturally, the bar features beers from all four owners, but, in a further example of beery solidarity, also guest ales from Big Hand, Cwrw Iâl and Heavy Industry. "Bringing in other local brewers," says Jonathan, "only makes the Albion stronger."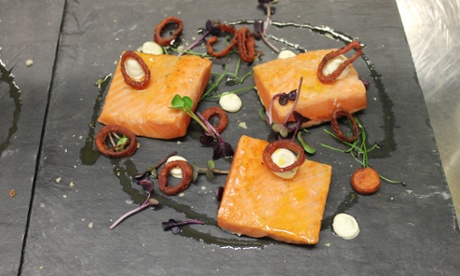 Hop-cured salmon, crispy pickled shallot rings and lemon cream cheese at The Kitchen Project
Heavy Industry, known for its award-winning Pigeon-Toed Orange Peel Hefeweizen, is the radical on the scene. "I don't care about tradition – I'm interested in big, flavourful beers," says owner Tom McNeil. But he adds: "I don't see it as new guard against old guard. They've got their market, we've got ours, and the Albion's a great supporter of ours."
Heavy Industry curates the beers at the 13th-century, thatched Llindir Inn in Henllan, but I head to Great Orme's new warehouse brewery in Llandudno for dinner in its events space, at chef Stuart Russell's The Kitchen project. Stuart will be in a new location by the time you read this – The Kitchen is a series of pop-up events – but seek him out. His use of beer ingredients with food – hop-cured salmon, gem lettuce with roasted barley dressing, Atlantis ale-soused mackerel – was very clever.
"The thing about north Wales is the fantastic produce," says Stuart. "We use beef from Conwy valley, pork from Anglesey. There are the ingredients to do something very good here."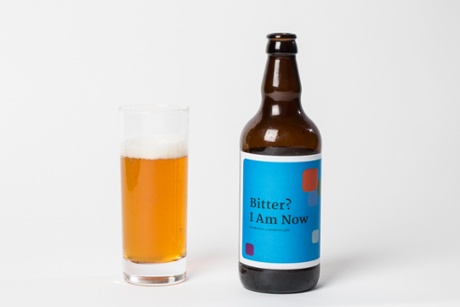 Tony's beer, named Bitter? I Am Now, got a score of four out of five in the office. Photograph: David Levene
Not least beer, of course. I have to wait a month for my brew to arrive, now christened "Bitter? I Am Now" (strapline: "an election consolation pale"). When it arrives, I'm happy to find that it tastes exactly as I hoped it would, all ripe tropical fruit flavours and sharp, lingering bitterness.
Cheers, or as they say in Wales, iechyd da!
Ed's note: It went down very well in the office; we give it 4 out of 5, Tony!
• The trip was organised by visitwales.com. Travel between Manchester and Conwy was provided by Arriva Trains Wales (returns from £30). Conwy Beer Festival runs from 26-27 June (conwy-beer-festival.co.uk)
Brewing up: four more beer hotspots
Faversham, Kent
Britain's oldest brewery, Shepherd Neame, arranges tours, tastings, and beer and food matching evenings. It also offers short breaks at the medieval Sun Inn and hosts the annual Faversham Hop festival (5-6 September). But it isn't the only brewer in town: the Mad Cat microbrewery opened a couple of years ago and its seasonal ales are served at Furlongs Ale House, a new micropub in a former fishmonger's.
Lake District
BrewedInCumbria.com lists 35 local breweries. One is Hawkshead in Staveley, which has live music every Sunday and holds spring and summer beer festivals (the next from 16-19 July). Jennings Brewery in Cockermouth has compiled one- to four-day ale trails: Lake District walks with breaks at real-ale pubs. They can be downloaded for free at GoLakes.co.uk. Hardknott Brewery has just opened a craft ale bar on the platform of Millom train station.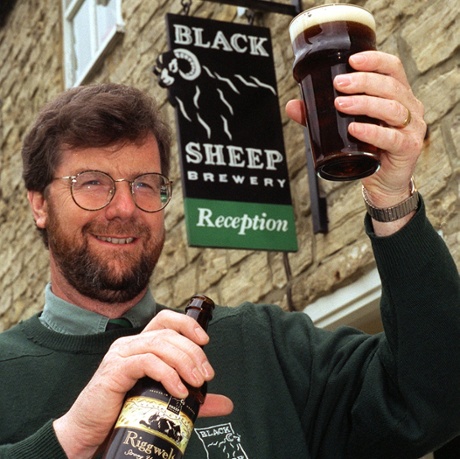 Paul Theakston of the Black Sheep Brewery, Masham, North Yorkshire. Photograph: Peter Thacker/Ross Parry Syndication
North Yorkshire
The beer map at Yorkshire.com lists real-ale pubs and breweries. The Black Sheep brewery in Masham has evening tours on Thursdays and Fridays, including a "Yorkshire supper". The new Moorside Brewery in Kirkbymoorside runs brewing experience days, where visitors can design and make their own beer and labels. New beer festivals include Bayside in Robin Hood's Bay (30-31 August) and Wharfedale in Grassington (6-7 November).
Isle of Skye, Scotland
The Isle of Skye Brewing Company, which started in 1995 and has won numerous awards since, has just relaunched. As well as new beers, it is crowdfunding a new visitors' centre. For now, drinkers can try the beers in the island's pubs, including the Stein, the oldest inn on Skye, and the Cellar Bar at the Dunvegan Hotel. There is also a microbrewery at the Sligachan Hotel, producing four ales, including Blackface with heather honey.
This article originally appeared on guardian.co.uk
This article was written by Tony Naylor from The Guardian and was legally licensed through the NewsCred publisher network.