Rachel Dixon, The Guardian, March 19, 2015
Have you ever seen a sultana? Really seen one, in all its wrinkly, squidgy, golden glory? I hadn't, until I spent half an hour in a yurt in Wales staring at one – squeezing, smelling, then biting, chewing and swallowing, slowly, with total concentration.
This was one of the meditation exercises on a four-day mindful glamping retreat in the Berwyn hills of north-east Wales. And if that sounds like the most Guardian-friendly holiday in existence … well, it probably is.
To quote Professor Jon Kabat-Zinn's definition, passed on to us by retreat leader Sholto Radford, mindfulness is: "Paying attention in a particular way, on purpose, to the present moment, and non-judgmentally." I can't say I was looking forward to it: four days in rainy Wales with no mobile phone reception, no alcohol and nothing much to do. But part of me was curious: a lot of people swear by mindfulness. It is even prescribed on the NHS for stress, anxiety and depression. Perhaps it would change my life.
The setting immediately raised my spirits. The campsite was a natural bowl with hills all around and a tumbling waterfall – Pistyll Rhaeadr, one of the seven wonders of Wales – on one side. The "glamping" element consisted of large canvas bell tents, each with a proper bed, a lantern, a little table made by Sholto's dad and flowers grown by his mum. There were flushing toilets and – after a few teething troubles – hot showers.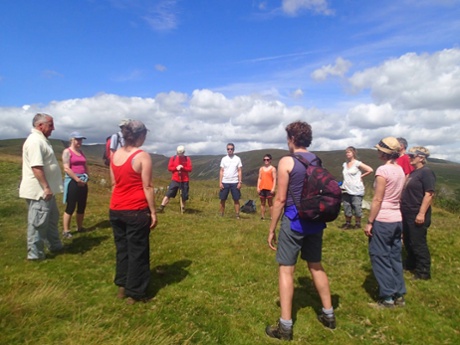 The group concentrates on some outdoor minfulness
We were here to practise mindfulness in nature. This meant a lot of walking through beautiful countryside in single file, spaced about 10 metres apart, moving very slowly and silently and living fully in the moment – at least in theory. Every now and then, we stopped to meditate – focusing on our breath, or what we could hear, or the view. When Sholto rang his Buddhist singing bowl, which echoed mournfully over the hills, anyone could share their thoughts. I was too shy to speak in front of the group, but sometimes we paired up to talk, which was less embarrassing and surprisingly therapeutic. One man confessed that he was struggling with the slow pace – he was a hill runner and usually tried to go as fast as possible.
I, too, was astonished by how difficult I was finding it to still my mind and be at one with nature. At points I was fighting back tears of frustration. At other times, a feeling of peace came over me and I appreciated the different way of walking. One of the nicest moments came when we spotted a hedgehog. We were moving so quietly and slowly that the creature didn't turn a prickle at our approach – in fact, for a few minutes he bustled along beside me. There were funny moments, too, like when Sholto passed a couple enjoying some, er, private time in the long grass. They must have thought they were unlucky to encounter a walker in such a remote spot – only for another to appear a minute later, then another …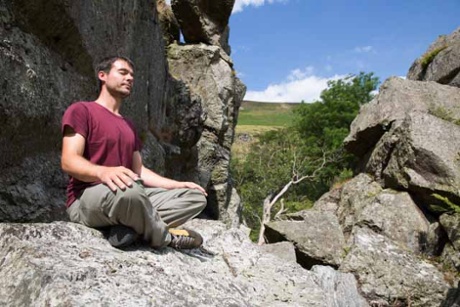 Group leader Sholto Radford
Back at the campsite, we did mindfulness exercises in the yurt, such as a "body scan" – lying down for 45 minutes and focusing on each body part in turn. In the mornings, there might be some gentle outdoor yoga stretches or qigong moves, or tapping various parts of the body to wake them up (looks strange, feels great).
I had worried that the food would be all lentils and muesli, but it was delicious. Much of the fruit and veg was grown by Sholto's mum and all the dishes were cooked by her: Polynesian curry, goulash, lasagne. We took packed lunches on the walks and came back to tea and cakes each afternoon. Lunch was eaten mindfully – in silence, focusing on the food. Dinner was more sociable – until the last night, which was conducted in silence too. It was hard work: for me, chatting over dinner is one of life's pleasures.
In the evenings, we sat around the campfire, looking at the stars. Occasionally the peace would be shattered by invading sheep or Shetland ponies – I became a dab hand at rounding up errant animals. I couldn't resist reading before bed, which felt like cheating: what could be less mindful – and more pleasurable – than losing yourself in a good novel? I also obsessively checked my phone, in vain – there was never any reception.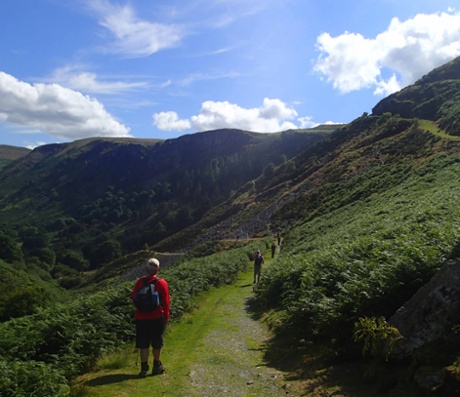 Mindful walking, at 10-metre intervals
The trip concluded with a half-day solo retreat: time to flex those new-found mindfulness muscles. We started with a group exercise, focusing on each sense in turn. I had a coughing fit during the listening exercise, but I loved the touch part – at one point, I literally turned into a tree-hugger. Then it was time to go it alone. I walked (slowly) to the waterfall and sat for a while, then carried on up the hill to the summit. I focused on my breathing and on what I could see and hear, on the rough grass and the warmth of the sun. It was relaxing yet invigorating, and I wished I could have stayed longer.
Back at camp, we gathered in a circle under a tree for our final sharing session. This time, I rang the bell and spoke to the group – as did everyone else. It was unexpectedly emotional: many people told why they had come on the retreat and what they had got out of it; some were in tears. I, too, found myself explaining that it had helped enormously with some problems I had back home.
So, did mindfulness change my life? To my surprise, I discovered that I already live quite mindfully – I try to appreciate the moment whenever I'm somewhere beautiful or doing something fun. The challenge is to appreciate the mundane as well as the sublime – such as a sultana. As for my preconceptions: it turns out that it doesn't rain all the time in Wales, I can live without alcohol and meditating isn't "doing nothing" – but mobile phone reception is one of life's essentials.
• The trip was provided by Wilderness Minds (01248 521621, wildernessminds.co.uk). Its next mindful glamping retreat is in July (dates tbc, £420 for four days). Its other mindfulness retreats include wild camping (£200), kayaking (£350), residential in Snowdonia (from £480) and mindful walks (£30). Travel from London to Chester was provided by Virgin Trains , and Chester-Gabowen by Arriva Trains Wales
This article originally appeared on guardian.co.uk
This article was written by Rachel Dixon from The Guardian and was legally licensed through the NewsCred publisher network.
https://images1.newscred.com/cD1jMDY5MGZkNDEwNjM3N2E4YTlmZGUxZDNjODcxZGVhMSZnPWE5OGRjN2QzOTJkNmQ4NWUyZjg2OGYzOTUwMWEyYzc4