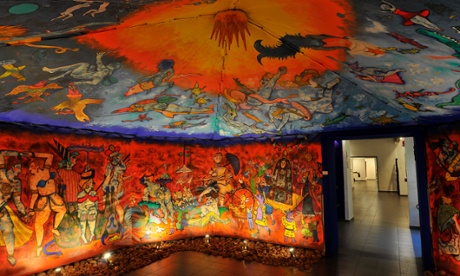 Alex Marshall, The Guardian, August 5, 2015
This museum is difficult to find – it hasn't even got a sign – but it's a thrilling insight into the country's past and present. I'd been in Asunción for a week researching, of all things, Paraguay's national anthem (the brilliantly named Republic or Death), when I decided to visit the Museo del Barro. I had by then fallen for the city – it's hard not to love a place where the locals spend their time passing around gourds of herb-filled iced tea (tereré). But whenever new arrivals at my hotel asked me what they should see I was at a loss; the city's "sights" seemed to be its people, not any particular place.
I headed out to the museum without expectations, especially since it was just off one of the city's busiest roads, had opening hours based around a three-and-a-half hour lunch break and its name apparently translated as "museum of mud". But when I finally found it, amid petrol garages and blocks of flats, I was dumbstruck by how great it was.
Related: An insider's guide to Asunción: Super-relaxed, upbeat and carefree
There were rooms overflowing with cartoonish Jesuit figurines and smiling traditional masks reflecting Paraguay's past, bang up against modern exhibits – photos, installations – giving insights into the country's politics I hadn't got from many days' research. Those juxtapositions made it all feel so exciting, so fresh. I couldn't believe it wasn't internationally celebrated. That evening, I told everyone at the hotel where to go. I just made sure to draw them a map.
• Alex Marshall's book, Republic or Death! Travels in Search of National Anthems, is published on 27 August by Random House, at £14.99. To buy a copy for £11.99 with free UK p&p, go to bookshop.theguardian.com or call 0330 333 6846
This article originally appeared on guardian.co.uk
This article was written by ALEX MARSHALL from The Guardian and was legally licensed through the NewsCred publisher network.
https://images2.newscred.com/cD1jMDY5MGZkNDEwNjM3N2E4YTlmZGUxZDNjODcxZGVhMSZnPWEwMGE5NzA1OWM2NzM3MWMyOWU4OTQyZmNhM2MwNzlk