Liz Boulter, The Guardian, December 10, 2015 
The streets are a riot of tinsel and fairy lights. The air smells of fruitcake and wine as crowds gather at an outdoor stage for festive singing and dancing. Excitement builds to fever pitch as Father Christmas arrives, laden with gifts.
But there's no breath misting in frosty air, and Santa is not in a sleigh but a rickshaw, because this is Christmas Kolkata-style, and that means a trip to Bowbazar, a district in the centre of the city whose jumbled cultures make for an exhilarating trip through the centuries since the East India Company started trading here.
"I come here every year with my family," says architect Manish Chakraborti. "My daughter loves to stand in a long queue with the children at Bow Barracks for a handshake with Santa. She learned to sing Jingle Bells here when she was three."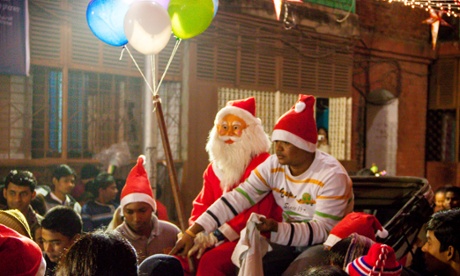 Santa comes to Bowbazar on a hand-pulled rickshaw. Photograph: Manjit Singh Hoonjan/Calcutta Photo Tours
No one would call crowded Kolkata a peaceful city, but it could teach the world a lot about tolerant coexistence. After prime minister Indira Gandhi was shot by her Sikh bodyguards 30 years ago, Sikhs all over India died in community violence. That there were no deaths in Kolkata is attributed partly to a swift curfew but also to the nature of the city: cultured, poor and ethnically mixed. The Kolkata of Kolkata is Bowbazar. In the 19th century the booming city was divided between the British "White Town" and the mainly Bengali "Black Town". Immigrants – Chinese, Jews, Buddhists, Portuguese and more – settled in the "grey area" in between, now called Bowbazar.
I take a tour of the area with Manjit Singh Hoonjan, a typical Bowbazar resident: he was born and bred here, but to a family of outsiders – his grandfather, a carpenter originally from Punjab, settled here in the 1940s. Now offering walking tours of this and other parts of Kolkata, Manjit is a mine of information on the city and how best to capture it in photographs.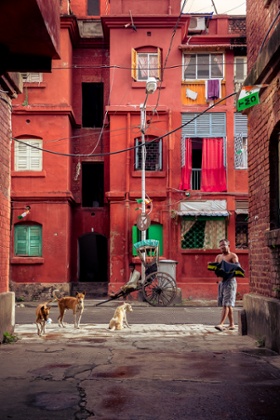 Morning light hits a street in Bowbazar. Photograph: Manjit Singh Hoonjan/Calcutta Photo Tours
We begin by turning off Chittaranjan Avenue into a labyrinth of narrow lanes. First up is Buddhist temple Street, with a guesthouse for travelling Buddhists from all over the world. Round the corner on Weston Street, children in smart brown uniforms are clattering in to Sacred Heart School. Christian areas have the best bakeries, says Manjit, pointing out Ajmeri bakery, piled with fruitcake and sweet-salty bakarkhani naan. It's early morning and milk is being delivered – still inside the goats. We follow the "milkman" and his flock to the British-built military housing that gave the area its name: Bow Barracks. After independence, the three-storey apartment blocks, green balconies and shutters contrasting with red brick, were taken over by Anglo-Indians, who love to keep their Christmas traditions alive.
Round the corner on Metcalfe Street, we stop for a clay cup of chai. It's 8am and the streets are thronged: a man at a tiny desk offers use of a mobile phone to migrant workers; in an ironing parlour, irons that look like museum pieces are heating on a wood fire. This is Parsee territory: a large red and grey building is the Zoroastrian fire temple, where a sacred flame has burned since 1912. The main temple is out of bounds, but in the outer arcade we admire carvings and stained glass depicting the flame and the Faravahar winged disc symbol, and nod to a priest in snowy white robes. The Parsees originally fled persecution in Iran but now contentedly share a street with a subsect of Shia Islam: the Aga Khan Jamatkhana – place of worship for the Ismaili community – stands rights opposite.
The main artery of Bowbazar is BB Ganguly Street. Plied by ancient creaking trams, it has several personalities: a loud and noisy wholesale vegetable market in the east, then a carpentry quarter, then the optical district, with glinting spectacles. But we're off to China – a short step away around Sun Yat Sen Street. Here, red flags hang over doorways bearing Chinese names, hawkers sell prawn crackers and water chestnuts and people are slurping Chinese breakfasts of fishball soup. We could be in Shanghai or Soho. There are noodles, incense sticks, dried mushrooms, and every other shop seems to be a butcher's, all pig carcasses and strings of Chinese sausage.
To remind ourselves that we're in India we stop for sweet treats at Bancharam on Chatawala Gali. Mishti doi is delicate sweetened yoghurt set into small clay pots; even better are kacha golla, melt-in-your-mouth balls of curd with cardamom.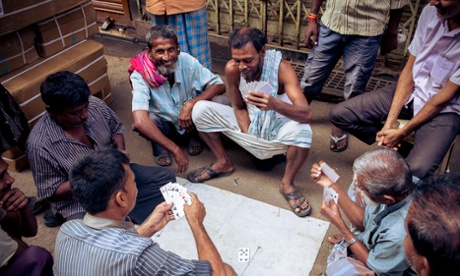 Men play a game of cards amid the bustle of the city. Photograph: Manjit Singh Hoonjan/Calcutta Photo Tours
Parsee Church Street (Manjit explains that any place of worship that wasn't a Hindu temple or mosque was referred to as a "church") has a thriving recycling industry: people are busy pulling apart old pallets and boxes, piling the wood for reuse, and gathering nails with a magnet on a stick. On Pollock Street – known as Balloon Lane for its shops festooned with every party decoration Chinese manufacturing can think of – we stop for more nibbles. Gathia are deliciously bad-for-you lengths of gram flour dough, deep-fried on the spot and served with chillies and shreds of green papaya.
There's more. A wedding cake of an Armenian church, and a green and baby pink building that is a Jain temple, one of the oldest faiths in the world, known for extreme non-violence. I keep my mind on that as we cross crazy Brabourne Road – believing in reincarnation probably helps.
We're heading up Canning Street towards an imposing red and cream building. Vaguely Moorish-looking, but with a church-like spire, it is actually a synagogue, the Magen David, built in Kolkata's Raj heyday, when the then capital of India had 10,000 Jews.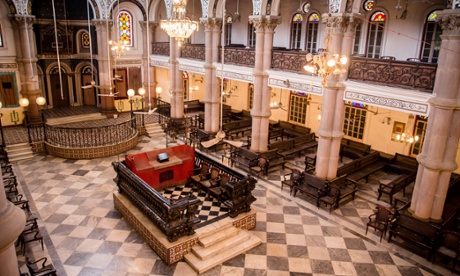 The Magen David synagouge. Photograph: Manjit Singh Hoonjan/Calcutta Photo Tours
Today there are fewer than 30, and Kolkata's synagogues can rarely muster enough for a service. So in this sacred space, with its shadowy arches and air that smells a century old, a Muslim family light the Shabbat lamps and polish the brass. But rules are rules: men's heads must be covered. I watch the Islamic attendant of this shrine to Judaism respectfully pin a kippah on the head of our British companion, in the middle of a mostly Hindu city, and wish more places could take a leaf out of Bowbazar's chaotic, tolerant book.
• Calcutta Photo Tours (+91 98 31 163482, calcuttaphototours.com) offers half-day walking tours from £15pp
This article originally appeared on guardian.co.uk
This article was written by Liz Boulter from The Guardian and was legally licensed through the NewsCred publisher network.