Byron Bay lighthouse and headland – the most easterly mainland point in Australia // Photo by Dean Turner/Getty Images
Anneli Knight, The Guardian, February 4, 2015
It's one of Australia's most popular destinations. Byron Bay has the magic combination of natural beauty and a creative, free-spirited local population.
Thanks to its temperate subtropical climate, no visit to Byron Bay is complete without numerous swims – from the protected shores of Belongil beach at the town's northern edge, around the headland that marks the most easterly point in Australia near Wategos beach, to the 8km wild stretch of ocean of Tallows beach that runs uninterrupted to Broken Head.
Culturally, Byron is well-known for having one of the highest concentration of creative professionals outside the capital cities, with an abundance of musicians, film-makers, writers and designers calling the town home. Byron hosts two of Australia's most popular music festivals – Byron Bluesfest and Splendour in the Grass – and the Byron Bay writers festival is one of Australia's most celebrated literary events.
But with all this abundance, the town can get crowded, particularly in the peak holiday times of Christmas and Easter, with traffic jams that crawl 6km from the Pacific Highway.
Weekends outside school holidays are the best time to enjoy 48 hours in Byron Bay.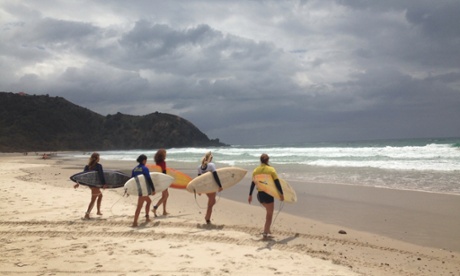 A surfing lesson at Byron Bay. Photograph: Anneli Knight/Supplied
FRIDAY
4pm: The Pass
Byron is a highlight of most surfers' east coast pilgrimages, and even if you're not up for catching a wave yourself, the best spot to enjoy the aroma of fresh surf wax is at the Pass, where its world-famous, long, consistent right-hand point break caters to pro surfers and beginners alike.
The Pass is also a great spot to enjoy a sunset walk to Main beach where you'll see a spectacular dusk sky behind the spectacular crag of Wollumbin (formerly Mount Warning) and the surrounding hinterland that hems the region.
6pm: Bay Lane and Beach Hotel
At the beach end of Jonson Street, backing onto the vibrant Bay Lane is the landmark Beach Hotel. Enjoy an end-of-day drink in the beer garden and head to the bustling laneway for a casual meal at any one of the well-priced restaurants: there's Thai, Italian, fish and chips and falafels.
Byron Bay is all about sparkling sunrise mornings, so if you can resist getting tangled up in the excitement of Bay Lane and Beach Hotel, head home for an early night.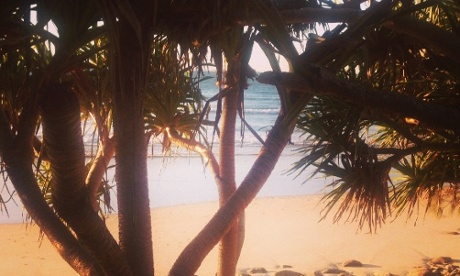 On the way to the lighthouse in Byron Bay. Photograph: Brigid Delaney/The Guardian
SATURDAY
7am: Walk the lighthouse loop
The earlier in the morning you can make it to the lighthouse walk the better. As Byron sees the first rays of sun, it's not unusual to spot pods of dolphins at play. Start at Wategos – it's a great beach for a swim when you've finished the loop, and it gives you the short option of walking up the steep lighthouse track and back or taking the full 4.5km loop that runs through subtropical rainforest and pops you back out at the Pass, with a great cliff-hugging track back to Wategos.
9am: Cafe stop
As you'd expect from a town that enjoys its early mornings, Byron has a caffeine addiction. There's no shortage of places to kickstart your day with a coffee shot. Local favourites are Top Shop, where you can sprawl on the lawn in the sunshine, Bay Leaf with its beans roasted next door and the Roadhouse, which is worth the 2km trek out of town for its organic spread and home-brewed kombucha.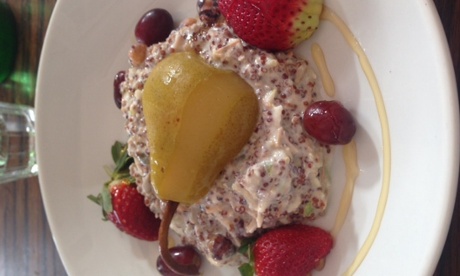 Healthy bircher breakfast in Byron Bay. Photograph: Brigid Delaney/Supplied
11am: Julian Rocks
Julian Rocks is the jewel in the centre of the crown of Byron's sweeping bay. The boat ride that takes you out through the break at the Pass is almost as much fun as spotting the abundance of marine life that congregates in the deep blue: giant turtles, manta rays and leopard sharks are a draw card.
The less adventurous might prefer to simply admire the rocks from the afar over a long lunch at Beach Cafe, with its wide vista across the ocean.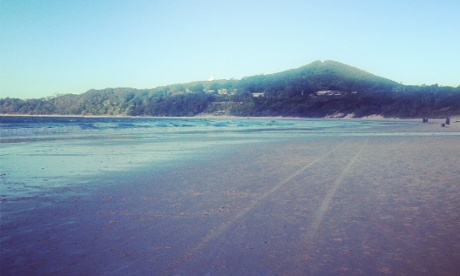 The wide main beach of Byron Bay. Photograph: Brigid Delaney/The Guardian
4pm: Live music
It's not unknown for some of the world's biggest bands only to do three shows in Australia: Sydney, Melbourne and Byron Bay. This is a tiny town spoilt for live music choice, at great venues such as the Great Northern Hotel and the Railway Hotel. Check the brimming local gig guide for what's on.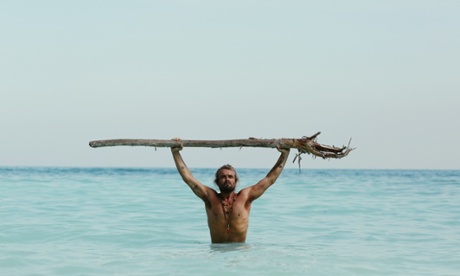 Xavier Rudd frequently performs in Byron Bay.
7pm: Top notch nosh
When it comes to food, Byron doesn't abide by the standards of your average Aussie seaside town – it prefers to go head to head with what you'd find in the most sophisticated pockets of Melbourne and Sydney. There's a wide range to choose from: Rae's on Wategos for seafood, musician Pete Murray's Frankie Brown (named after his dog), Italian at the Pacific with the same owners as Beach Hotel but pitched at the cocktail-drinking clientele, and Byron's newest addition to fine dining scene, Cicchetti. For a more casual meal, try the newly-renovated sushi train spot, O-Sushi.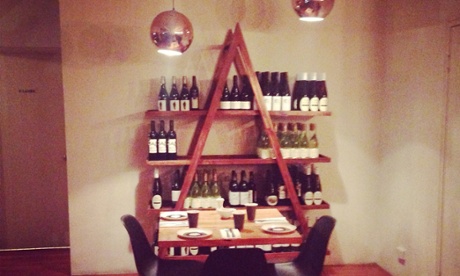 Pete Murray's Frankie Brown eatery. Photograph: Anneli Knight/The Guardian
SUNDAY
7am: Yoga
No better way to start your day than with a salute to the sun in this town that's overflowing with yogis.
Beachside Yoga and Massage, in the surf club facing the main beach, is a picturesque spot to do yoga, while Byron Bay Yoga Centre, Ananta Yoga and Shiva Shakti offer drop-in classes.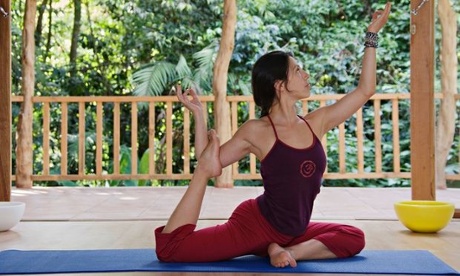 Yoga-lovers flock to Byron Bay. Photograph: Alamy
11am: Byron markets and support locals artists
The Byron markets run on the first Sunday of the month year-round and, in December and January, also on the third Sunday. You can buy local produce such as sugar cane juice and fresh macadamia nuts at the market, as well as arts and crafts.
Byron Bay has plenty of good independent retailers and local fashion designers. Try stores in town like Arnhem, Amilita, Goddess of Babylon, Pooch and Samba and Muther of All Things. Or head to either of the bookshops and buy something written by a local author. For fiction, start with Jessie Cole, Jesse Blackadder or Maggie Groff; for surf legend stories, there's Rusty Miller or Bob McTavish.
1pm: Go organic for lunch
Don't go home without indulging in a liquid superfood smoothie lunch at Naked Treaties
Byron is proud of its organic food culture. Don't go home without indulging in a liquid superfood smoothie lunch at Naked Treaties, or affordable Heart and Halo with its selection of prepared vegetarian and vegan hot and cold food. Santos, with its cafe and grocery store that celebrate ethical produce, also offers some treats to take home.
3pm: Belongil beach
Treehouse on Belongil has casual indoor-outdoor decor that makes you feel as though you're hanging out in an old friend's living room. There are DJs playing throughout the afternoon, with wood-fired pizzas and beer and cocktails flowing. If you'd prefer a more peaceful pace, Belongil Bistro next door has a fantastic menu and wine list.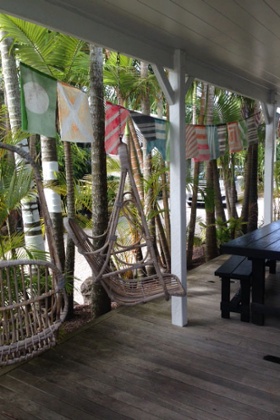 Atlantic at Byron Bay. Photograph: Brigid Delaney/The Guardian
Don't leave Byron without a final dip in the ocean at Belongil each. Let the afternoon sun rays – and with it your final Byron Bay tonic - sink into your skin.
Places to stay
5-star hotel
77-97 Broken Head Rd
(02) 6639 2000
4-star hotel
13 Marvell St
(02) 6685 5118
4-star hotel
20-22 Fletcher St
(02) 6620 9600
This article originally appeared on guardian.co.uk
This article was written by Anneli Knight from The Guardian and was legally licensed through the NewsCred publisher network.