Matthew Clayfield, The Guardian, February 23, 2015
Driving from Melbourne, the Great Ocean Road comes to an end just short of Warrnambool. But for those who have a little more driving in them – or a lot more – there are plenty of reasons to push on.
With its rugged coastline, seemingly endless vineyards and ghost gum-dotted pastures – lush and green in the winter months and parched yellow in the summer ones – the Limestone Coast hasn't really received the credit it deserves as one of the country's great tourist destinations. But this ecological, historical and recreational must-visit, bookended by the Glenelg and Murray rivers, remains for my money one of the most interesting and hospitable places in the country.
I would say that, of course. I'm from the region and am biased towards it. (For the longest time, I was biased against it, but time and distance heal all wounds.)
The many charms of Port Fairy and the great, green farmlands of western Victoria, can be glimpsed from your window as you pass through on your way to the South Australian border. It is on the other side of that line in the sand, some 420 kilometres west of Melbourne, that things begin to get interesting.
Mount Gambier
Home to the world-famous Blue Lake, Mount Gambier is the region's capital. Fans of natural wonders will no doubt wonder plenty at the lake, an azure marvel in the crater of an extinct volcano and the primary source of the town's drinking water. (While it's not possible to swim in the lake for this reason, pumping station tours are available.) Fans of diving have a lot to choose from as well, with limestone sinkholes and caves—such as Piccaninnie Ponds' Chasm and Cathedral caverns—throughout the area. Mount Gambier must be one of the only cities in the world that sports a sinkhole right behind the town hall.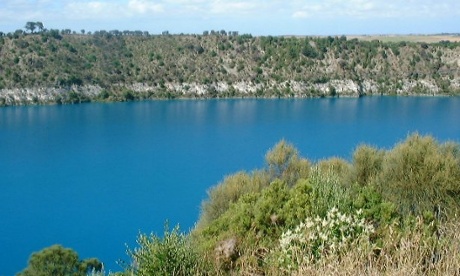 The Blue Lake at Mount Gambier.
Photograph: Tim Parkinson/flickr

With a population of about 25,000, Mount Gambier has always straddled a fine line between modern city and regional backwater: the birthplace of Sir Robert Helpmann and the home of Generations in Jazz, Australia's pre-eminent launch pad for young jazz musicians, also gave us the viral newspaper article that opened with the intriguing lede: "A Mount Gambier woman has warned the community against smoking while cleaning lawnmowers in bedrooms."
However, I must admit that, in the decade since I have left my birthplace, the city does seem to have matured a good deal. Upon arriving on my annual visit recently, I was struck for the first time in a good long while, not only by the undeniable natural beauty of the place, but by the manmade beauty of it, too: the integration of original and contemporary architecture in the town hall building, the redevelopment of the old train yard into a public park, the merging of the colonial past with an increasingly vibrant, multicultural present. (Mount Gambier has benefited a good deal from the arrival of Congolese, Burmese and other asylum seekers over the past decade, giving a bit of much-needed diversity to a place that once typified what John Flaus memorably called, in a review of David Caesar's Mullet, "our old white culture," which is "in remission everywhere and moribund in our big towns." Naracoorte, an hour to the north, has similarly resettled nearly three hundred Afghanis in recent years, representing a population increase of more than five per cent. A number of these recent arrivals have reportedly taken up sheep shearing.)
There are an increasing number of decent places to eat and drink as well. It would be remiss of me if I didn't mention my year 12 English teacher's bakery-turned-wine bar, Metro (2/32 Commercial Street East, Mount Gambier), though sometimes it's good to stick with the classics: The Gambier Hotel (2 Commercial Street West, Mount Gambier), or "The G", as even it calls itself these days, still has it charms. Stay at the Commodore on the Park (cnr Jubilee Highway and Penola Road, Mount Gambier) or the Lakes Resort (17 Lake Terrace West, Mount Gambier).
Port MacDonnell
In addition to publishing the aforementioned lawnmower-cleaning story, Mount Gambier's still-extant newspaper, the Border Watch, was also the first to print the poetry of Adam Lindsay Gordon.
But the author of Bush Ballads and Galloping Rhymes is perhaps better-known in these parts for his exploits as a horseman. In 1885, Lindsay Gordon rode his horse over the Blue Lake's rail guard fence on a bet, avoiding death only by the surefootedness of his steed, which landed nimbly on a ledge below. Gordon's Leap was immortalised and used as the basis for a rather taller tale in the unduly forgotten children's picture book The Ballad of the Blue Lake Bunyip.
Between 1864 and 1867, Lindsay Gordon lived at Dingley Dell Cottage, a 20-minute drive south of the city on the outskirts Port MacDonnell, a worthy day-trip. This rough and tumble fishing village, the home of South Australia's largest crayfishing fleet, has become rather less rough and tumble in recent years as sea-changers from Mount Gambier have increasingly made it their own. Indeed, I once had to explain to a guy in the pub, who saw my suit jacket and assumed I was from out of town, that my parents were locals. When I told him where they live, he scoffed. "Oh," he said, "the posh end of town." The posh end of town? The place is only two kilometres long.
If you're lucky, you might be able to convince such gnarled and weathered specimens to take you out of a morning to pull cray pots. The bay's resident dolphin, Flobby, who recently lent his name to a brightly-decorated children's tractor-train that sideswiped a car on its maiden voyage, will accompany you to the edge of the breakwater. Be sure to take motion-sickness tablets. Or perhaps just enjoy the fruits of the fishermen's labours on land at Periwinkles (63 Sea Parade, Port MacDonnell) or the Victoria Hotel (40 Meylin Street, Port MacDonnell).
The bay is otherwise notable for its photogenic coastal landscape, its blink-and-you'll-miss-it fairy penguin colony, its surprisingly comprehensive maritime museum and January's Bayside Festival. Obesity concerns have seen the pie-eating contest phased out, and animal rights concerns have put the kibosh on the octopus-throwing competition. But assuming the wind doesn't see the whole thing blow away – as it did last year – then it still serves as an enlightening look at South Australia's southern-most community. Stay at the possibly-haunted Customs House B&B (3 Charles Street, Port MacDonnell), which boasts an unexploded German sea mine that washed ashore in 1943, or alternatively with my parents.
Penola
The spiritual home of Mary MacKillop – it is here that Australia's first saint co-founded the Sisters of St Joseph school in 1866 – remains first and foremost the gateway to the famous strip of terracotta soil that is the Coonawarra wine region. Instantly-recognisable wine names line the Riddoch highway as you drive north from town: St Hugo, Balnaves, Hollicks, Rymill. Unlike a lot of other well-known regions, Coonawarra is far enough away from any major metropolitan area that you're likely to get some of the best cellar doors in the country to yourself, even on a weekend. Visit Wynns (1 Memorial Drive, Coonawarra), whose cellar door doubles as a museum about the history and geology of the area, and Majella (Lynn Road, Coonawarra), whose cabernet-shiraz blend, the Musician, is one of this writer's favourites.
Penola itself has changed beyond all recognition in the past couple of decades. Once on the brink of fading away altogether, the town today offers bonanza of arts and craft stores, B&Bs and other ventures geared towards MacKillop pilgrims and connoisseurs of (non-consecrated) tipples. While the Mary MacKillop Interpretive Centre (cnr Portland Street and Petticoat Lane, Penola) might not be everyone's cup of tea, the street it backs onto, Petticoat Lane, offers a rather more secular step back in time. The 19th century cottages that line the way, bought and refurbished by the Penola National Trust, offer a glimpse into the lives of the region's early settlers, such as boot-maker Christopher Sharam, while also offering local arts and crafts, vintage clothing and a help-yourself-within-reason herb and vegetable garden. (One of Sharam's sons was apparently riding with Lindsay Gordon on the day of the latter's Blue Lake exploits.)
The town sports an ever-growing number of dining options, from cafe fare to fine dining, the latter best-represented by Pipers of Penola (58 Riddoch Street, Penola). Day-trippers should try the platter of locally-made cheeses, dips and other produce at diVine (39 Church Street, Penola). While accommodation options line Penola's central Church Street, those looking for something a little different might consider Davidson Cottage on Petticoat Lane (13 Petticoat Lane, Penola).
Beachport, Robe, Kingston and the Coorong
To head north from Penola is to pass through the Wrattonbully and Padthaway wine regions and eventually to hit Naracoorte, with its World Heritage-listed caves and their 500,000-year-old megafauna fossils. Head west from Penola through Wattle Range, on the other hand, and you reach the coast again.
Your first stop will be Beachport, a town of colonial charm, which boasts both a beach and a port. Walk the length of one of the state's longest jetties before settling in for a pub lunch (or an Asian-style one) at Bompas (3 Railway Terrace, Beachport), the town's original hotel. In the old days, we would catch the latest releases six months after they'd been released around the corner, at the old cinema, watching them projected onto a couple of stitched-together sheets on a projector we could hear through the wall.
Today you're probably better off pushing on to Robe, 50 kilometres up the coast, which rivals Penola in the boutique arts and craft stakes while offering an array of seafood that rivals even Port MacDonnell's. The Caledonian Inn (1 Victoria Street, Robe) is one of my favourite pubs in the region. Caffé Belgiorno (2 Victoria Street, Robe), the local spin-off of the popular Mount Gambier restaurant (7 Percy Street, Mount Gambier), is worth the visit, too.
Both Beachport and Robe have plenty to offer anglers, surfers and four-wheel-drive fanatics, the former sitting at the north end of Rivoli Bay, which stretches all the way down to Southend, and the latter the 12 wonderful kilometres that are Long Beach, one of my favourite places to go body-boarding anywhere. Accommodation options—from caravan parks to B&Bs—abound in both, too. Between them, you'll find the Limestone Coast's answer to the Great Canyon, the Woakwine Cutting (Woakwine Cutting Road, Beachport), a man-made channel from what was once unfarmable swampland to what is still Lake George. Begun in 1957, the kilometre-long channel took two men and a tractor three years to complete, with 276,000 cubic metres of earth ultimately excavated.
Even further north than Robe is Kingston, a town that could easily be described as blink-and-miss were it not for Larry, a hulking great Godzilla villain officially known as the Big Lobster (1 Princes Highway, Kingston SE), who represents the region's contribution to the great Australian tradition of giant fibreglass tourist attractions. The Princes Highway now skirts along the eastern shore of the Coorong National Park, a string of wetlands and lagoons that is surely one of the jewels in region's ecological crown. This is Storm Boy territory, the setting of Colin Thiele's classic young adult novel, written before young adult novels were even a nameable genre. It's also the site of Malachi Martin's infamous crimes, the grisly Salt Creek Murders, immortalised in a play by Melissa Reeves that was first staged, coincidentally, at Mount Gambier's Sir Robert Helpmann Theatre. Martin was the Limestone Coast's 19th century answer to Ivan Milat.
Not the nicest note on which to enter the region, perhaps, but the shallow saltwater, gently lapping at the side of the road, will soon calm your jangled nerves. The Coorong might lack some of the Great Ocean Road's more majestic photo opportunities, but it makes up for it with natural diversity and a rich Indigenous history. Campers will have a field day and birdwatchers even more so. Obviously, there are pelicans "Mr Percival!" – galore.
The Coorong comes to an end at Meningie, on the south-east shore of Lake Albert, and the Limestone Coast along with it. To continue onwards along the coast is to hit Goolwa and Victor Harbour, and maybe even to cross the Backstairs Passage that leads from the Fleurieu Peninsula to Kangaroo Island. To head inland is to hit Tailem Bend and Murray Bridge. In both cases – for those who have a little more driving in them – the city of churches awaits. Keep going.
This article originally appeared on guardian.co.uk
This article was written by Matthew Clayfield from The Guardian and was legally licensed through the NewsCred publisher network.