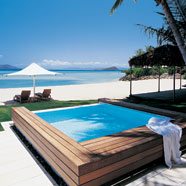 When two major cyclones rumbled through Queensland earlier this year, Hayman Island Resort in the Great Barrier Reef was severely damaged, and was shuttered for repairs.
"The works will encompass key guest and accommodation areas, activity facilities, essential infrastructure, landscaping and grounds throughout the island," said Lloyd Donaldson, Head of Hotel Investments, Mulpha Australia and Managing Director, Hayman.

But there is a light at the end of the tunnel: The resort has announced an expected grand re-opening for August 1, just in time to book for the Australian spring and summer. Even better: The resort is retaining all of its employees for a seamless transition.

For more information, visit www.hayman.com.au.
Read more on: