by Dina Rickman, The Independent, March 6, 2017
The mythical perfect honeymoon. Every couple has their own internal checklist, but if you're in the market for beaches so pristine you'll feel guilty about Instagramming them, private islands and intimate hotels where you can quietly argue with your new spouse without the entire staff knowing about it, the British Virgin Islands certainly fit the bill. With around 60 islands, there's plenty of room for different types of honeymooners: white sand beaches and clear blue seas tick the relaxing boxes, but for the more adventurous there's everything from surfing and scuba diving to parachuting and canopy tours. Then there's celebrity spotting – the Obamas, of course, chose Richard Branson's exclusive Necker Island for their first trip after leaving office.
What's more, a ban on franchises means that not only are there no McDonald's or Starbucks in the BVIs, but there are no chain hotels, either. So while it takes a little more effort to pick somewhere, you're in for a more interesting stay. We tried four hotels on four different islands, each offering something to make your holiday unique.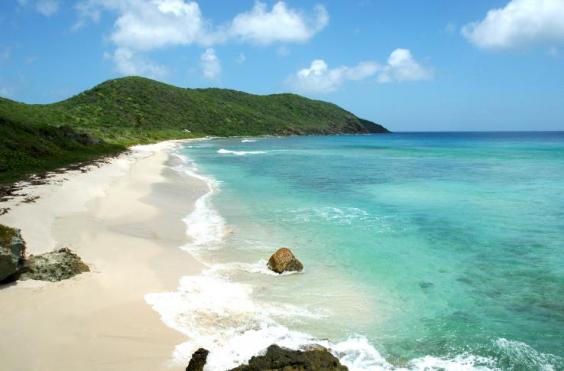 The mostly undeveloped Guana island: you're unlikely to stay indoors (Guana Island)
On its very own island, Guana began as the ultimate private members' club in the 1920s and, almost a century on, it offers a luxury travel experience without the oppressively obsequious service which so often comes with that. That doesn't mean you won't get everything you need (as well as things you didn't even know you wanted) from staff: co-managers Andrei and Antonia are happy to organise everything from spa treatments to scuba diving, but they'll also give you the space to relax and explore its unique surroundings in your own time.
As well as the opportunity to swim, snorkel, or just sit with a cocktail on the island's pristine beaches, Guana also offers incredible views from its 26 hiking trails. The island is 90 per cent undeveloped and has just a handful of staff living there, giving it an intimate atmosphere. Guests can stay in villas with their own infinity pools, or rooms which offer views over the Caribbean Sea. This is one place, though, where there's no need to splash out on an upgrade: even honeymooners won't want to spend too much time indoors.
Villas have private infinity pools (Guana Island)
The all-inclusive resort calls itself "a wildlife sanctuary with a cocktail hour." Three meals a day – including wine at dinner – are provided, but with chef Xavier Arnau using organic ingredients grown in the island's own orchard, the menu never gets samey.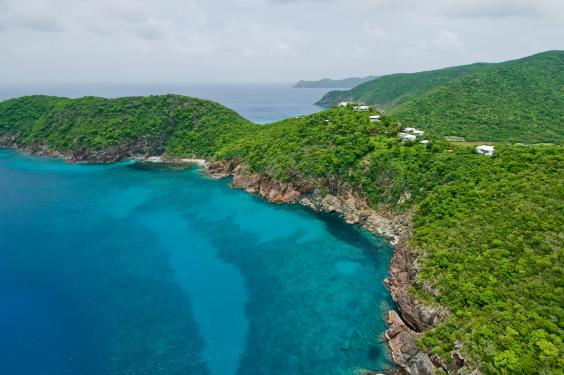 'A wildlife sanctuary with a cocktail hour' (Guana Island)
With a maximum of 32 guests at any given time, three resident flamingos and a chef with a Michelin-star pedigree, it's no surprise people keep coming back – we met a couple who had been holidaying there every year since the 1970s. As for location, it is just a 10-minute boat ride away from the BVIs' main airport. Guana's captain will pick you up and drop you off at your convenience.
Essentials
Doubles from £570, all inclusive​
Wifi: free
Access: On a case by case basis
Rooms: *****
Service: *****
Value: ****
It's a 30-second roll out of bed to the beach at Surfsong (Surfsong)
Surfsong is three minutes from the BVIs' main airport and 30 seconds away from the beach – but at night you'll hear the sound of waves crashing into the sand rather than airplanes landing. "Intimate" is the key word at this secluded five-acre boutique resort on Beef Island, which was opened a decade ago by Canadian couple Cate and Mark Stephenson. Guests have the option to stay at one of seven uniquely designed villas: three have four-poster beds, four face directly onto the beach and one is in a treehouse.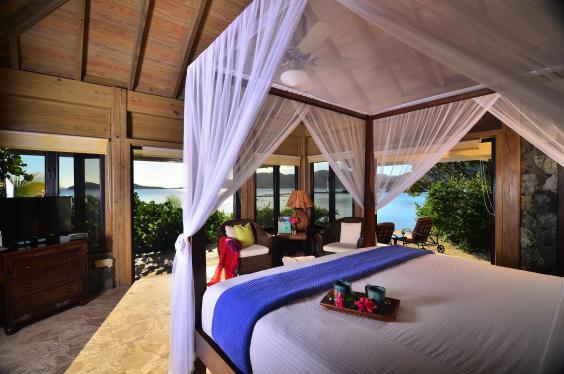 From four-poster beds to a treehouse, Surfsong's villas are all unique (Surfsong)
The accommodation is self-catering, but that doesn't mean you'll have to cook. Guests can organise private dinners in their villas or eat at the resort's restaurant, The Courtyard at Surfsong, where executive chef David Cioppa offers gourmet dishes made from local produce.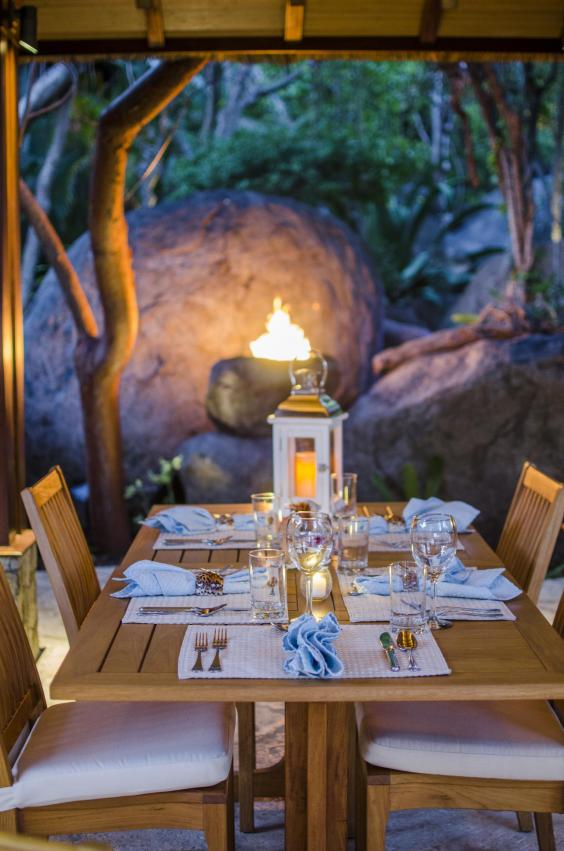 The villas are self-catering, but that doesn't mean you need to cook (Surfsong)
Essentials
Villas from £337, room only​
Wifi: free
Access: Showers are not accessible, though villas otherwise are.
Rooms: ****
Service: ****
Value: ****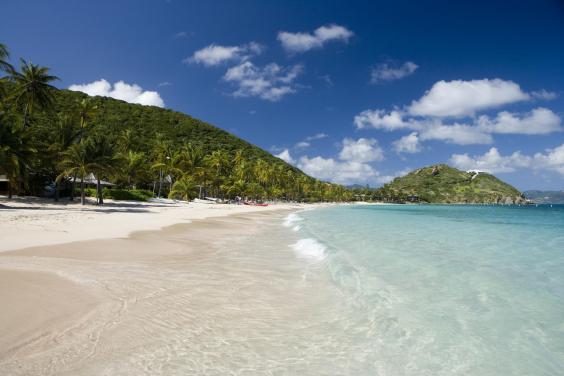 Peter Island's beaches are exceptional, even for the BVIs (Peter Island)
Peter Island has a unique sell: it provides a luxury experience while making it seem like you're discovering your very own desert island. The private island offers buzzing bars, hiking, free water sports lessons and an award-winning spa that's been tagged as one of the best in the Caribbean. The massages alone are worth a trip, but if that isn't enough to excite you, there's also the opportunity to enjoy lunch on a secluded beach or what might just be the best cocktails in a 100-mile radius at their bar. Most beaches in the BVIs are beautiful, but Peter Island's are exceptional. If you can afford it, book a Beach Front Junior Suite, where you're not only steps away from the sand but have a private hammock and hot tub too. Going all out? Villas each come with their own pool, bar, chef and butler.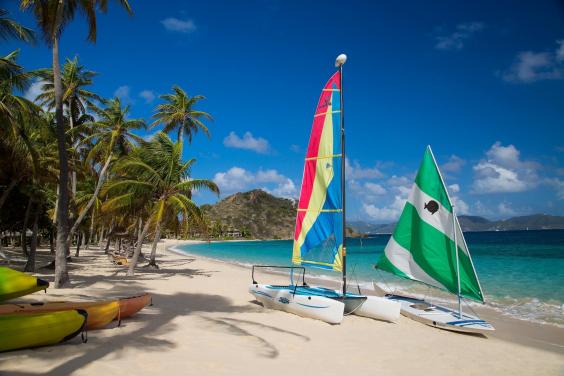 No excuses here: Peter Island offers complimentary water sports lessons (Peter Island)
If you pick Peter Island, make sure you book a meal plan – the rooms are relatively affordable but the food is pricey, at around $100 dollars for lunch for two with drinks. As for getting there, it's a 20-minute ferry ride from the biggest island of the BVIs, Tortola – although high rollers make use of the island's very own helicopter pad.
Essentials
Rooms from £356, room only​
Wifi: free
Access: Two wheelchair-accessible rooms and wheelchair access at restaurants
Rooms: ****
Service: *****
Value: ***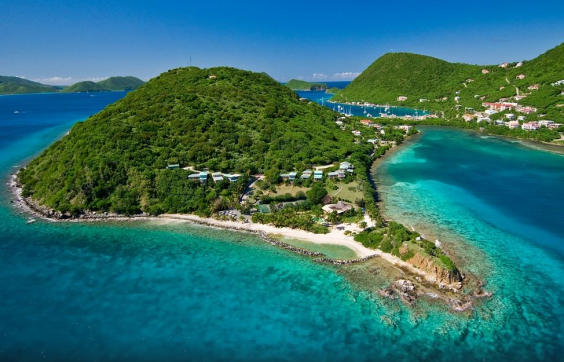 Frenchmans' beach may be man-made, but that means it's truly private (Frenchmans)
Let's get this out the way: Frenchmans isn't on the beach per se, but don't let that put you off. The resort offers stunning views of Tortola and the surrounding islands, and its man-made beach means it offers one of the few truly private shores in the Caribbean, due to an idiosyncratic law which means all beachfronts are publicly owned. The villas are pristine and gorgeously furnished, but the real reason for choosing Frenchmans is the hospitality. General Manager Peter is the perfect host, happy to cater to your every whim (even if that means driving you around the island). Not only does he know the best spots in Tortola, but he'll create a personalised itinerary for you to see them. An absolute must stay, even for a night.
Essentials
Villas from £233, B&B​
Wifi: free
Access: Not wheelchair accessible
Rooms: ***
Service: *****
Value: *****
Travel essentials
Getting there
There are no direct flights from the UK. The writer travelled as a guest of Norwegian, which flies from Gatwick to San Juan in Puerto Rico from November to late March from £318 return (excluding baggage, seat assignments and food). From there, it's a 40-minute flight to the British Virgin Islands' main airport on Beef Island (off Tortola). Airlines operating the route include Seabourne Airlines, InterCaribbean and Cape Air, which uses tiny nine-seater planes; fares start from £188 per person.
More info: www.bvitourism.co.uk
This article was written by Dina Rickman from The Independent and was legally licensed through the NewsCred publisher network. Please direct all licensing questions to [email protected].