by Martin Symington, The Independent, March 2, 2017
Why go now?
Burma, or Myanmar as it is more commonly now known, is on the move at an astonishing pace. It is, after all, only a few years since the dark days of military rule and house-arrested Aung San Suu Kyi's pleas to us to stay away. Now, with her blessing, tourist numbers are soaring and Burma's largest city, Yangon (also known by its colonial name of Rangoon), is fast becoming South-east Asia's latest boomtown. Glass skyscrapers are rising up to take their place among the skyline's glittering gold pagodas. And with the curtain of mystery lifting on this one-time pariah of the international community, there is an edgy excitement about brushing with people, places and ways of life still getting used to foreign visitors.
Get your bearings
About six million people live in Yangon, Burma's commercial hub. However, it has not been the official capital since 2005 when the military regime upped sticks and relocated the government to brand new Naypyidaw.
Yangon stands on the east bank of the oceanic River Yangon, about 30km from the Andaman Sea. It came to prominence in the latter half of the 19th century when the British made it the capital of their new imperial possession. The colonial port area is still the commercial centre, though the heart of the city remains the gigantic gold Shwedagon Pagoda, visible from most places and so the main focal point.
Day one
Take a view
A lift whisks you 20 storeys up Yangon's tallest building, Sakura Tower (1) (sakura-tower-yangon.com). Gaze over 360 pagoda-dotted degrees of the city and the broad, brown Yangon river beyond. Eat at the Thiripyitsaya Sky Bistro, or simply step out on to the open rooftop.
Take a hike
Street life is at its most vivid in the downtown 'heritage' district of dilapidated colonial mansions cheek by jowl with glittering temples. The area is compact enough to explore on foot, starting at the Sule Pagoda (2) (Junction of Sule Pagoda Road, Mahabandoola Road) – almost certainly the world's only example of an ancient temple in the middle of a busy traffic roundabout. The arresting, pink-and-purple-painted colonial façade on the east side is City Hall (3), while further along Mahabandoola Road is the Immanuel Baptist Church (4). Stroll through Mahabandoola Gardens (5), noticing the fading colours and wrought-iron balconies of buildings which were once trappings of mercantile wealth.
Continue down Sule Pagoda Road to meet Strand Road, then pass the imposing Custom House (6) to reach the homage to colonialism that is the Strand Hotel (7) (hotelthestrand.com).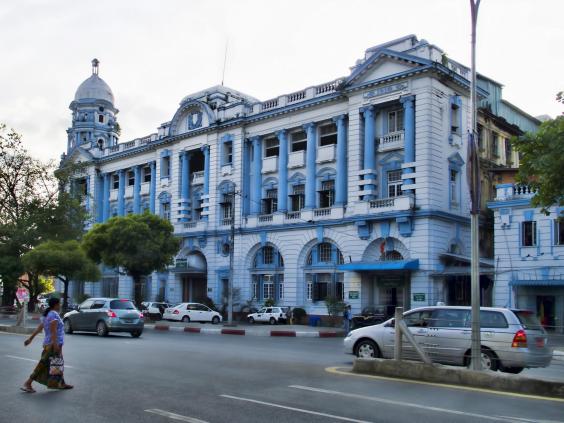 British-colonial architecture on Sule Pagoda Road (Dan Lundberg/Flickr)
Lunch on the run
Yangon locals are enthusiastic guzzlers at the street stalls found all over the city. Traders proffer bowls of Mohinga (noodle soup) to slurp-and-go, or Bein Moun (crispy pancakes) which might be savoury – often with prawns – or filled with fruit and condensed milk. The deep-fried crickets are more of an acquired taste, while battered chunks of gourd in chilli sauce cry out for a cold glass of Shwe Bali (milk and yoghurt, rather like an Indian lassi).
Cultural afternoon
The Shwedagon Pagoda (8) (shwedagonpagoda.com) is Myanmar's show stealer, its Taj Mahal. The golden stupa rockets 100 metres into the air carrying 30 tons of pure gold leaf, 2,500 rubies, and a 76-carat diamond on its crown. Nobody knows for sure how old it is, but it seems to have risen by degrees from about 600BC, with new layers and chambers added over the centuries to house sacred relics.
Nowhere is Buddhism more observable as a living, breathing religion. Tourists are vastly outnumbered by Burmese in a constant tide of raspberry-robed monks and pilgrims flowing clockwise round this holiest monument, pausing at marble pavilions and shrines where they leave offerings of rice and flowers.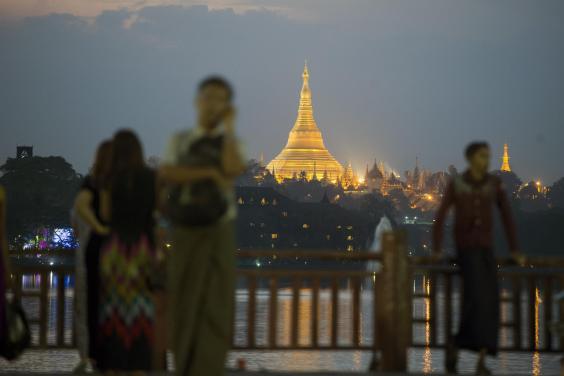 Shwedagon Pagoda dominates Yangon's skyline (Getty)
An aperitif
The historic Strand Hotel (7), a colonial icon of the Singapore Raffles or E&O in Penang ilk, re-opened in November after extensive refurbishment. Sip Strand Sours (Mandalay rum with lime juice, sugar syrup and Angostura bitters) on a rattan chair under slowly turning fans and you will only be following Kipling and Somerset Maugham. If it happens to be Friday evening, when Happy Hour is declared, you'll find the place going bonkers. Most of expat Yangon and the cream of local society congregate here from 6pm onwards; by 9pm The Strand is a merry place.
Dine with the locals
The House of Memories Restaurant (9) (houseofmemoriesmyanmar.com) has a special place in Burmese hearts. In this century-old colonial half-timbered house, General Aung San, assassinated father of Aung San Suu Kyi, had a secret office from which he orchestrated his resistance against British rule. The room has been restored, complete with the national hero's desk and typewriter. Diners are treated to a tour before tucking into signature dishes such as Poo Pad Pang (soft-shelled crab, fried and curried with onions).
Day two
Window shopping
Expansive, covered Bogyoke Aung San Market (10) (Bo Gyoke Road), founded by the British as Scott Market, is the place to find anything from traditional Burmese jade, lacquer, puppets or teak carvings, to sarong-like longyis. Wander deep into the central alleys to find vendors busily trading in gold. The market is open every day from 9am to 6pm, with the best bargains often to be had first thing in the mornings. Haggling is expected, but this is usually done at relaxed, shoulder-shrugging pace.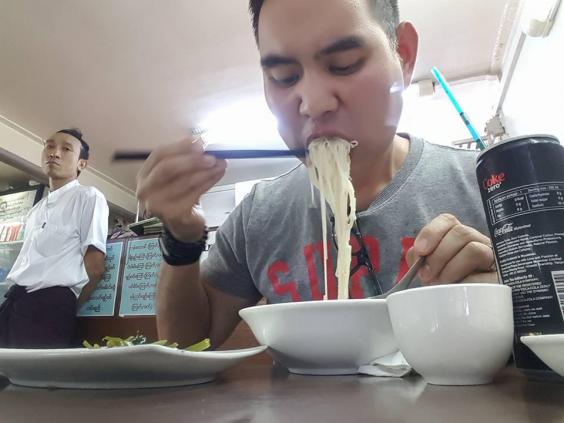 Get stuck in at 999 Noodle Shop (Facebook)
Sunday morning: Out to brunch
Burmese eat noodles for breakfast (and lunch, and dinner). It is hard to find better than those at 999 Shan Noodle Shop (11) (130B 34th Street; 00 95 1 389363; no website) where locals and tourists rub shoulders over brimming bowls. The bouncy, English-speaking owners will offer tastes of toppings such as crispy bacon or creamy tofu, to help you choose.
A walk in the park
Saunter along the waterside path through lush gardens fringing enormous Inya Lake, an expansive reservoir at the heart of the city. Stretch the legs along Kaba Aye Pagoda Road (12), watching flocks of splashing wildfowl. This is an exclusive neighbourhood with posh villas peeking from behind creeper-draped walls. The most famous – selfied in front of by thousands of visitors – is the so-called 'Lady House' (13) at 54 University Avenue, where Aung San Suu Kyi was held under house arrest.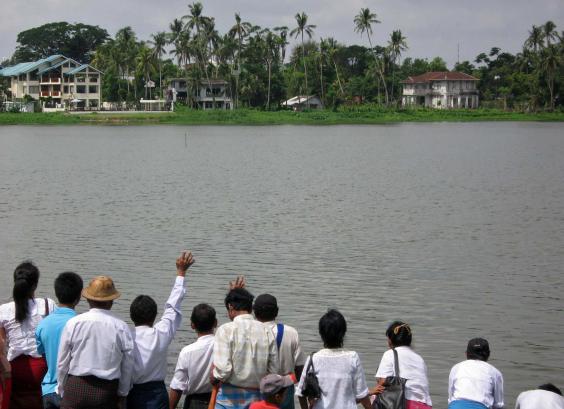 Supporters wave towards Lady House on the other side of Inya Lake (AFP/Getty Images)
Take a ride
Yangon's 50-kilometre Circle Line train clatters round the urban perimeter, stopping every few minutes as commuters, food hawkers and flower sellers clamber aboard. The full loop takes about three hours from the Central Railway Station (14) (yangonrailwaystation.com). However, you can hop on and off at any point and get a taxi home if you have had enough.
Travel essentials
Getting there
Taxis from the airport (15) to downtown cost about £8. Agree the price in advance.
Staying there
The Belmond Governor's Residence (16) (governorsresidence.com) is an uber-luxury 1920s teak mansion set in luxuriant landscaped gardens. Doubles from £267.
Panorama Hotel (17) (panoramaygn.com) is a centrally-located mid-range hotel, aptly named for its great views of the Shwedagon. Doubles from £105.
Motherland Inn (18) (myanmarmotherlandinn.com) is a simple, clean budget hotel run by a welcoming family. Rooms from US$20 (approx. £16).
This article was written by Martin Symington from The Independent and was legally licensed through the NewsCred publisher network. Please direct all licensing questions to [email protected].