by Kashmira Gander, The Independent, March 9, 2017
A demand for an elephant, a delivery of breast milk and dealing with 200 pieces of luggage: it's all in a day's work for Nigel Bowen.
As head concierge at the five-star Mandarin Oriental Hyde Park hotel in central London, he's used to dealing with weird and wonderful requests on a daily basis. And, it seems, the more money you have – rooms at the hotel start at £600 a night and go into the thousands – the more bizarre your demands.
"I was once given an empty vial of perfume with no markings on it and asked to replace it," Bowen told The Independent. "A guest wanted to surprise his partner. They had bought the perfume in the Middle East but he couldn't remember if it was from Jeddah, Doha or Dubai and he was desperate. So we got a specialist perfumer in France to smell the vial, identify the base notes and recreate it, because we couldn't track the source."
It took a month for the perfume to arrive, but luckily the couple were regular guests. On their next visit, the woman was "blown away," he says. He refuses to be drawn on how much the bespoke scent cost, but is clear that he doesn't charge for his concierge services, and says he wouldn't dream of asking for a tip.
Bowen, who has worked in the hotel industry for 17 years, appears in the new Channel 4 documentary A Very British Hotel alongside a handful of almost 400 other members of staff. His well-heeled guests include actor Morgan Freeman, although he refuses to be drawn on whether celebrities are as demanding as rich 'civilians.' His most outlandish requests include a bride who wanted an elephant included in the ceremony (declined since only small animals are allowed on the grounds), and a businesswoman who had breast milk she had left in Boston successfully shipped to her room in London.
The first episode shows the team blacking out the windows of a £7,000-a-night-suite for a princess, and unloading a lorry of 200 pieces of her luggage packed for a month-long stay. That isn't necessarily as lucrative as it sounds – since the most high-profile guests aren't required to leave their credit card details at the desk, members of royal families are known to not pay their bills for several months. Following one stay, the princess did not pay for nine months, the programme reveals.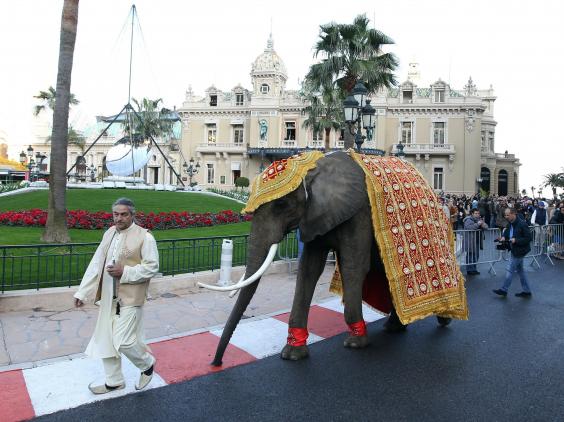 An elephant drafted in for a wedding in Monaco. Nigel turned down a similar request. (Getty)
At what point does a request become too much? It seems it partly comes down to how you ask.
Would a concierge happily cover a room in waterproof plastic, for instance, if a guest wanted to indulge in the kind of nefarious sexual activities that are alleged (but strongly denied and most certainly not confirmed) to have gone down at the Ritz-Carlton Moscow? "If the guest so wished and had the means to, then yes we would," says Bowen. "We are in business of making dreams come true and making magic happen. If you are privileged enough – whether you were born into wealth or created through hard work – you deserve to have your requests met if you stay in a high calibre hotel." However, he makes it plain that he can only help if a request "is not illegal, immoral or unethical."
He would, for instance, draw the line at organising a sex party. "There have been all sorts of weird requests but I think people are quite discreet and that is not something we have ever been asked," he says.
"But the most important thing to remember as a concierge is that nothing is ever too strange or difficult. It all just requires a few calls and knowing who to contact, and narrowing down your chances of getting it right. We love challenges: they keep us on our toes."
There's only been one occasion when Bowen has failed his guests: in 2010, when Iceland's Eyjafjallajökull volcano erupted and the resulting ash cloud caused 20 countries to close their airspace to commercial jet traffic. Ten million air passengers were affected; some of them were his guests.
"I didn't have a day off for two weeks because I was trying to get people home," he says."We utilised every resource we had to get guests from A to B. For our European guests we organised boat tickets, chauffeurs, rental cars and trips through the Channel Tunnel. But a lack of transatlantic flights meant guests from the US were stranded."
To learn how to deal with guests from all corners of the globe, the team complete up to six official training sessions per week, learning how to handle complaints and addressing cultural sensitivities.
But ultimately, hospitality comes down to being observant, explains Bowen, who discreetly collates information on his loyal guests – from noting whether they drink alcohol to how they like their steak – to tailor the service they receive.
"It's about putting yourself in that person's position and deducing what makes them happy," he says. "It's not hard work if you love it."
This article was written by Kashmira Gander from The Independent and was legally licensed through the NewsCred publisher network. Please direct all licensing questions to [email protected].
Read more on: