Jay Rayner, The Guardian, December 15, 2015
Adam Handling at Caxton, 2 Caxton Street, London SW1 (0800 652 1498). Meal for two, including drinks and service: £140
Adam Handling has talent. He has talent the way Ukip has nutters. Yup. He has that much talent. The first time I tried his food it wasn't so much good cooking as a place of safety. He was a contestant on MasterChef: the Professionals. All around him, young cooks on the edge of a breakdown that might later require treatment with antipsychotics, their skin the colour of sweating veal, were "pushing the envelope". They were expressing their passion and embarking on a journey.
Meanwhile, Handling cooked us some stuff: a bit of lamb, some potatoes, a splash of gravy, a little spinach. It was all perfect. It was a masterclass both in execution and keeping your nerve. It takes serious cool to watch your fellow contestants go off on one, and then decide that, you know what, I'm just going to do some lamb, potatoes and gravy.
I liked him even more when, faced later in the series by a swivel-eyed Italian chef who had apparently read too many self-help books with the word "creativity" in the title, he slumped down in a corner of the kitchen muttering that he didn't get it. You could see the phrase "this is cobblers" forming on his lips, even if you didn't hear it, and the phrase "too right, my son" forming on mine.
Handling was a runner-up in MasterChef 2013, but he has won other awards since. Now he has his name above the door at the restaurant of St Ermin's Hotel, just across the road from New Scotland Yard in London's Victoria. There are causes for concern here. Despite improvements, hotel restaurants can still be unpromising spaces, where the stale scent of the breakfast buffet festers alongside the overwhelming whiff of the corporate. Here we are buffet apparatus-free, but the corporate stench is still present in the name badges that the poor front–of–house staff are forced to wear. I would love to ask the company numpty who insisted upon this why they think it's a good idea. It's a grim mark of servitude. Our name is part of our identity. Being forced to clip it to your breast as a counterfeit proof of friendliness is an act of forced surrender. It's cheap. It stinks of a ring-road hotel full of quiet desperation.
That aside, the L-shaped space actually has a rather pleasing, down-at-heel, front-room charm about it. There are over-stuffed banquettes and bare tables, at odds with the prices which are anything but bare – teens for starters, 20s for mains. There's also the issue of a chef so young having his name over the door. Then again the food here is so very idiosyncratic, so very in-yer-face, that you really do need to know who's responsible. It's all much more complicated than the food he cooked in the MasterChef critics' rounds. There are outbreaks of Asian flavours and ingredients. Ideas are piled one upon the other. He cooks like a standup comedian who never wants the laughter to entirely die away. When it fails it is never less than a very amiable attempt. When it works, however, it is truly brilliant.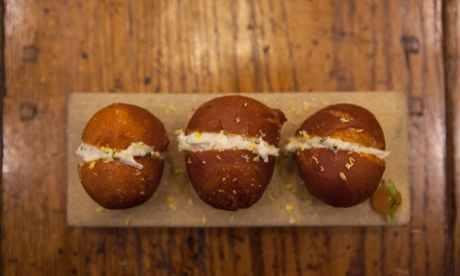 Jay Rayner: 'Adam Handling cooks like a standup who never wants the laughter to entirely die away. When it works, it is truly brilliant.' Above: the crab doughnuts at Adam Handling at Caxton. Photograph: Antonio Olmos/Observer
Snacks bring a me-too take on the crab doughnuts championed by Nuno Mendes at celeb-fetish spot Chiltern Firehouse early this year. My companion and I bicker over which are better. I find these small fried doughnuts, slit and filled with finely picked white meat, better than the original. They are lighter and fresher. Another snack of greaseless fried chicken comes on a pillow of a black sesame and miso sauce that has been put through a nitrous gun. It's not the sort of stuff to eat while wearing a white shirt. It's also merely pleasant and diverting rather than a reason to pause.
Then a dish of scallops turns up and boom, the fireworks go off. It is one raw scallop sliced into four, but what a scallop; it's the size of a baby's fist, after it's been on the milk for six months and hit the serious chub phase. These huge, sweet discs of shiny scallop are dressed with the lightest of dill cream sauces, with a splash of the hugely aromatic Japanese citrus ponzu. There is crunch from tiny balls of apple. There are fronds of dill. It is simple. It is pitch perfect. Against that, a more complex dish of lobster with roasted nuggets of skin-on chicken in a coconut and chilli broth feels like it's trying a little too hard. There is a honking pungency to the liquor which threatens to overwhelm everything else. Happily, on the side come two shards of thin, crisp chicken skin, sandwiching a frothy whipped chicken parfait. And yes, a similar chicken sandwich has been served at Noma in Copenhagen. But I rather like how indelicate and over-stated this version is against the original.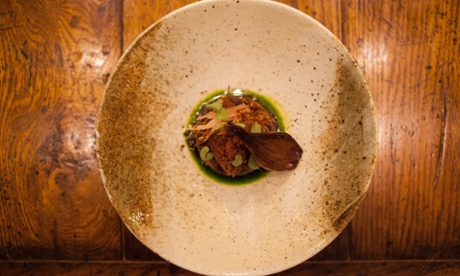 The goat shoulder on roasted shallot purée. Photograph: Antonio Olmos/Observer
The sea bass fillet in a main course is as precisely cooked as any I've experienced in recent times. There is a very fine pig's head croquette and some caramelised fig and a bosky mushroom purée. Sea bass dishes are usually where you go looking for the genteel. This is a fish dish in finely stitched, thick leather walking boots. Sweet shoulder of goat, braised until it becomes a mass that can be formed into a disc, lies on a roasted shallot purée, with whole roasted shallots. It is a killer combination until the addition of a highly acidic sauce, which only makes any sense later on when finally it combines with the onion purée. It's cooking which needed to hear the words "enough already".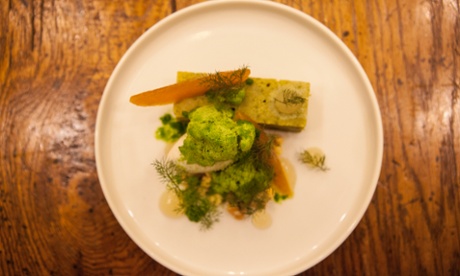 The pistachio cake with artichoke ice cream. Photograph: Antonio Olmos/Observer
We order a dessert of pistachio cake with artichoke ice cream because it sounds so odd, and, apart, the two things are. The moist sponge cake is a little under-sweetened, the ice cream curiously salty and vegetal. Together though, they make an unlikely kind of sense, each flavour playing catch-up with the other. Another plate of caramelised popcorn, with their own nougat, bitter-chocolate sorbet and a brilliant piece of tubular sugarwork filled with cream, is only let down by the graininess of a caramel sauce underneath. But these are still a lot of my favourite things playing nicely together.
Adam Handling at Caxton is not cheap. It's barely on nodding terms with cheap. But the food is unique, has character and in places is very clever indeed. Did I crave more of that MasterChef simplicity? In truth, I did. Who wouldn't? But ambition like this is also worth celebrating. I'm glad I went.
Jay's news bites
■ Events may have got ahead of me, but at the time of writing chef Darren Comish of the modest Oak Bank Hotel in Grasmere is through to the semi-finals of the current series of MasterChef: the Professionals. However that pans out, his food is worth trying. His dishes can look complicated – a tasting of pork appears to include every bit of the animal apart from the oink – but none of it is for show. His flavours punch through. Prices are very keen. A real find (lakedistricthotel.co.uk).
■ Wrap, the government-backed anti-waste group, has found – worryingly, given that Christmas is nigh – that almost 25% of respondents questioned via Mumsnet did not feel they could make a meal from leftovers without a recipe. Send instructions for turkey risotto pronto (lovefoodhatewaste.com).
■ There's money in cake. Patisserie Valerie, which for decades from 1926 was one cake shop on Soho's Old Compton Street, has just recorded sales of £51m from its 98 sites. The parent company plans 20 new sites for 2015 (patisserie-valerie.co.uk).
This article originally appeared on guardian.co.uk
This article was written by Jay Rayner from The Guardian and was legally licensed through the NewsCred publisher network.