Diana Hubbell, The Guardian, October 5, 2015
Many come to Thailand with visions of empty, palm-lined, white beaches and exotic cuisine. The reality at the more popular tourist sites is often starkly different: greasy approximations of western food, stands hawking crass English-sloganed T-shirts, and a 7-Eleven on every corner. With 24.7 million international visitors in 2014 and one of the most developed hospitality industries in Asia, Thailand is no longer the region's most adventurous destination.
But don't be discouraged. This is still a country of raw natural beauty – and while it does take extra effort to reach the less-trampled pockets, it does not take much. Venture past Phuket, Phi Phi and Koh Phangan to these greener pastures, where the pace of life is still somnolent and the scenery still stunning. Unlike more developed areas, with their bevy of creature comforts, these destinations are rougher around the edges. Remote islands often lack ATMs; Wi-Fi is nonfunctional or nonexistent. It's a small price to pay for a trip off the well-trodden grid, and you'll find emerald rainforests and beaches without a soul in sight.
ISLANDS
Koh Kradan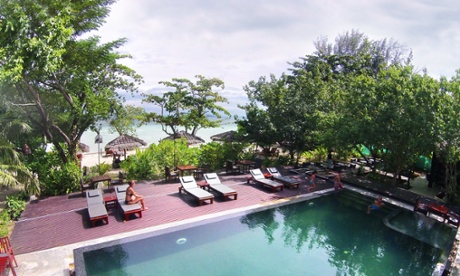 Sevenseas Resort
Named "surfboard" in Thai for its elongated shape, this 2½-mile strip of land in the Andaman Sea off the coast of Trang province makes nearby Koh Lanta look positively packed. It is mostly within Hat Chao Mai national park, which means there are no villages or even proper roads to intrude on your Crusoe fantasies. Stay on the cashew-tree-fringed main beach, then make your way at sunset to Ao Chonglom, an isolated stretch on the western side with craggy limestone outcrops, or hop on a longtail boat to neighbouring Koh Muk for a spot of caving at Tham Morakot, the famed Emerald Cave.
Where to stay With an open-air spa and 39 villas, Sevenseas Resort Koh Kradan (doubles from £80) is a pretty plush place to be marooned. On a budget? Kalume Kradan Village (bungalow doubles from £29) offers low-impact, no-frills accommodation by the sea. There's no air-con, but a fan and the gentle sea breeze provide ample climate control.
Where to eat Minimal development means that the only restaurants on the island are connected with guesthouses or small resorts. Sevenseas Restaurant, which offer Thai and international dishes, is located directly by the water and remains one of the best of the bunch.
Getting there Fly from Bangkok to Trang with Nok Air (from £10), then take a ferry from Hat Yao Pier (£19 for the one-hour trip).
Koh Phra Thong
Few places are more paradisical than this island towards the Myanmar border, which is a favoured nesting place of three species of sea turtle, including the world's largest, the 700kg leatherback. From November to January, these visitors lay their eggs in the protected sands. The few resorts cluster on the west coast, leaving vast swathes of grassland and biodiverse mangroves undisturbed. Listen for the unnervingly human-sounding cackle of sapphire-hued oriental hornbills, or the rustle of demur sambar deer. Protected and uninhabited, nearby Koh Ra is a haven for the area's wildlife.
Where to stay There's a clutch of eco-savvy resorts here, but Golden Buddha Resort (doubles from £90) stands out for its commitment to maintaining the fragile surroundings. The resort uses an energy-efficient generator, grows much of its own organic produce, and, along with the Phuket Marine Biological Centre and voluntourism group Naucrates, runs a turtle conservation centre where guests are welcome to lend a hand.
Related: Thailand's last unspoilt islands: Koh Yao Noi
Where to eat With no notable standalone restaurants here, your best bet by far is the dining room at Golden Buddha Resort, where the owners make their own bread and jams. In keeping with its environmental sensibilities, the resort grows its own organic fruit, herbs and vegetables, in addition to sustainably raising pigs, ducks and chickens. The remaining produce and seafood on the menu is sourced from the daily market in nearby Kuraburi and local fishermen.
Getting there Fly from Bangkok to Phuket with Nok Air (from £10), then either take a taxi, hire a car or arrange with the resort for a transfer to the pier at Kuraburi. Golden Buddha Resort has its own boats, which are more reliable than the local ferry.
Koh Mak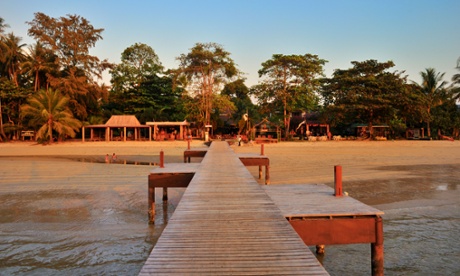 Barely a blip on anyone's radar, this speck in the Koh Chang chain, in the eastern Gulf of Thailand, is perfect for doing a whole lot of nothing. Coconut palms number in the thousands and humans in the hundreds. If you're ambitious there are a few fishing villages to explore, and if motivation strikes, you might splash around in near-bath temperature seas. With a good book and hammock, though, you might be tempted not to bother at all.
Where to stay Bungalows for two at family-owned Lazy Day the Resort (from £29) are not fancy, but they are mere steps from the waves.
Where to eat The humble Koh Mak Seafood (Ao Nid Bay) offers exactly the kind of unfussy cuisine you want on a tropical island.
Getting there Fly from Bangkok to Trat with Bangkok Airways (from £49) then take a 45-minute ferry ride (£8, kohmakboat.com) from Laem Ngop.
Koh Kood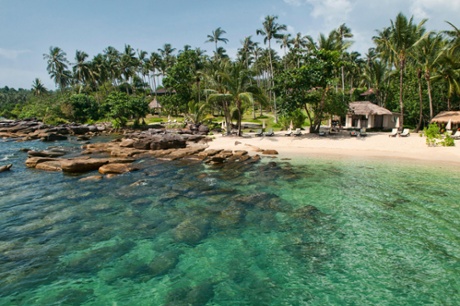 Tourism has been rising steeply on this white-sand wonder since the addition of a high-speed ferry and a five-star resort, Soneva Kiri, a few years ago. Still, with no public transport and blessedly few bucket bars, its idyllic pockets are many. Ao Klong Chao is the island's most popular beach, but Ao Phrao in the south is a near-empty strip of equally lovely coast. Divers can head half an hour out to Koh Rang national park, where gin-clear waters and rainbows of coral await. BB Divers (full-day snorkelling with lunch £18, full-day diving with lunch £55) has experienced instructors and guides.
Where to stay Cham's House (doubles from £94) has plenty of beachfront villas, with open-air bathtubs.
Where to eat As its name suggests, the vista from View Point Café (on Had Klong Chao Road) will keep shutterbugs busy. This casual cafe closes for the rainy season in May and reopens in October. While no one would call the island a nightlife hub, Bombyx Beach Bar, part of the Chams House resort complex, is one of the liveliest places for a sundowner. For a glimpse of the island life of yesteryear, head to the quiet fishing village near Ao Yai beach and eat at Chonticha Seafood, where everything on the menu is fresh off the boat.
Getting there Fly from Bangkok to Trat with Bangkok Airways (from £49) then take the 90-minute Boonsiri ferry (from £7) from Laem Sok.
Koh Phayam
How this island of glittering sand and tropical forest has remained so sleepy for so long is a minor miracle. With a population of roughly 500 and just a smattering of bungalows, Koh Phayam is often likened to the Samui of yesteryear, before the cruise ships came in droves. Word is slowly creeping out, though, and each season sees a few more footprints in the powdery crescent of Buffalo Bay. Get here while the laid-back vibe remains.
Where to stay: PP Land Eco Resort (bungalows for two from £15), on Ao Hin Khao beach, and the same organisation's Heaven Beach Resort (bungalows for two from £37) on Buffalo Bay come with luxuries like air-conditioning. The latter is family-friendly while the former is quieter and has a strict no-children policy.
Where to eat Follow the rainbow sign to Baan Nam Cha, a hippyish vegetarian restaurant by Ao Yai Beach that stays true to the island's boho spirit and offers fresh juices (about £1.50), vegan and gluten-free baked goods, chai tea, plus Thai and Burmese dishes.
Getting there: Fly from Bangkok to Ranong with Nok Air (from £10), then take a two-hour ferry ride (£4) or the speedboat (£6, 40 minutes, November-April only) to the island.
Koh Tarutao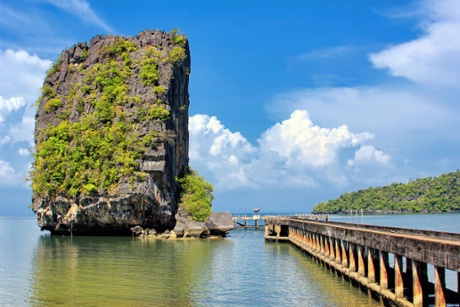 Less pleasant aspects of Koh Tarutao's history have helped deter the kind of mass tourism that has inundated nearby Koh Lipe. Previously a hideout for marauding pirates, a brutal prison for more than 3,000 exiled Thais, and, more recently, home to dim-witted contestants on US reality TV show Survivor: Thailand, this island close to Malaysia's Langkawi is part of the Tarutao national marine park and as such remains virtually free of commercial development and 70% blanketed in jungle. Its name comes from the Malay word for "primitive" and "mysterious" – and indeed there is a lingering air of enigma on these mostly vacant shores and cave-riddled peaks.
Where to stay Accommodation here is mostly on Ao Phante Malaka and Ao Molae beaches, and run by the national marine park (bungalows from £11). These are basic beach shacks, but with a setting like this, you're not likely to care one bit.
Where to eat: Dining options are limited, but perfectly adequate. Near the visitor centre at Ao Phante Malaka, there are a handful of bare-bones cafes that will whip up a wok of phat khao phat thalay (seafood fried rice) or other staples for little more than £2.
Getting there: Fly from Bangkok to Hat Yai with Nok Air (from £10) then take a taxi to Pak Bara village, where you can catch the two-hour ferry (£6) to the island. Foreign visitors have to pay a park entrance fee of about £4.
GREEN SPACES
Khao Sok national park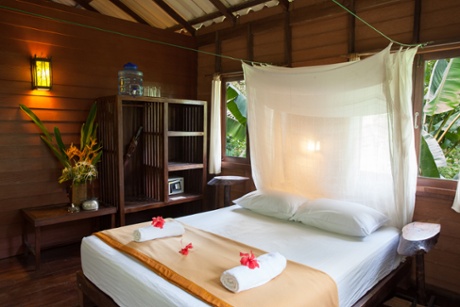 Our Jungle House
The largest area of virgin forest in southern Thailand, this is a place of towering limestone karsts slicing through dense foliage that's home to great hornbills and Dobby-eyed slow lorises. Lucky visitors may spy some of the rare large mammals that live here, including the tapir and lumbering Asian bison. Cheow Lan Lake, in its centre, teems with aquatic life and is punctuated by more than 100 little islands. It may look peaceful, but its glassy surface conceals abandoned temples and villages flooded when the government created a dam nearby. Hikers can take a guided trek through the natural surroundings, and divers can explore the eerie remnants of drowned communities.
Where to stay Treehouse hotels are hardly a rarity in Thailand, but the rustic-luxe Our Jungle House (treehouse doubles from £53), on 25 privately owned acres of rainforest next to the Klong Sok river, is a fantastic place for explorers of all ages to stay.
Where to eat Aside from the local guesthouses, most of which include a basic restaurant, Thai Herb, on the main park road, serves basics (from about £1) such as phad krapow moo (spicy stir-fried pork with holy basil) and the ubiquitous pak boong fai daeng (stir-fried morning glory) in a shady garden setting.
Getting there: Fly from Bangkok to Surat Thani with Nok Air (from £10), then take a two-hour bus or minivan ride from the main station. Foreigner visitors have to pay a park fee of about £8.
Mae Hong Son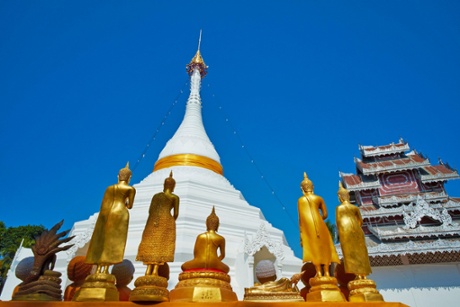 Wat Phra That Doi Kong Mu is a short hike from Mae Hong Son town. Photograph: Alamy
Surrounded by rolling tea plantations, Mae Hong Son town remains lush and languid in comparison with Pai, its increasingly overrun neighbour. Its proximity to the border means the Shan minority group (ethnically from Myanmar) make up much of the town's population. As with many places where culinary cultures clash, Mae Hong Son's distinctive local cuisine more than merits a trek. Seek out turmeric-tinted curries dotted with tiny, sour tomatoes and eaten with fingerfuls of sticky rice. You can hike up to Wat Phra That Doi Kong Mu, on a 1,500-metre peak just outside Mae Hong Son, is strenuous, but the two shimmering chedi spires and jaw-dropping view more than merit the effort.
Where to stay Fern Resort (doubles from £46) consists of 30 Shan-style bungalows out in the lush and serene valley a few miles south of town.
Where to eat The Salween River Restaurant (mains from about £1.20, 23 Pradit Chong Kham Road) caters for travellers, but has solid Thai and Burmese dishes. For a more local experience, skip the sit-down meal and head to the daily morning market near Panith Wattana, or the evening one near the golden spires of Wat Chong Kham, for edible treats such as khanom jeen naam ngiaw (rice noodles with pork curry broth), Shan-style tofu and papaya fritters.
Getting there The drive from Chiang Mai to Mae Hong Son is a scenic one (five hours by taxi, seven by bus), but budget carrier Kan Air offers daily flights between the two destinations from £17.
Khao Yai national park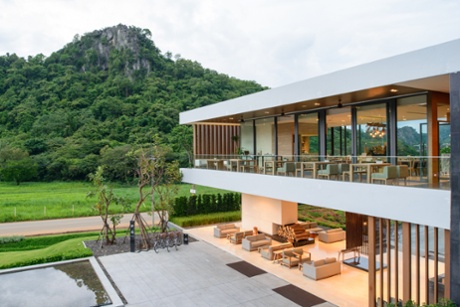 Escape Khao Ya offers modern accommodation just outside the national park. Photograph: Kittipong Thamapa
A short drive from Bangkok, Thailand's first national park, part of a larger Unesco-protected forest range, is a verdant expanse of mountains, evergreen and rainforests, and towering waterfalls including Haew Nerok, one of the highest in the country, and Haew Suat, made famous by Leonardo DiCaprio's cliffside plunge in the movie The Beach. The 837-square-mile expanse brims with fauna ranging from the wild elephants and macaques to rare barking deer and gibbons, not to mention 300 species of tropical bird.
Where to stay: Once home to only the most rudimentary of accommodation, the park has seen a flurry of boutique openings in recent years, making it even more appealing. Escape Khao Yai (doubles from £54) has modern rooms right outside the park.
Where to eat: Once the butt of jokes, Thailand's nascent wine industry is beginning to produce some moderately respectable vintages. It's hardly Bordeaux, but on the north side of the park, PB Valley Khao Yai Winery, one of the oldest and best vineyards in the country, makes for a scenic stop, and its Great Hornbill Grill does wood-fired pizzas as well as Thai food.
Getting there Either rent a car for the 2½-hour drive from the capital or take a 3½-hour bus ride from Bangkok's Mo Chit station to Pak Chong. Foreign visitors have to pay a park entrance fee of about £7.
Doi Inthanon national park
Crowned by 2,565-metre Doi Inthanon, the highest peak in Thailand, this sanctuary is wreathed in pinewoods and sprinkled with wild orchids. An ornithologist's dream, it is home to the largest number of bird species in the country. The park's uncommonly cool temperatures, as well as its proximity to Chiang Mai (it's 100km away), the largest city in northern Thailand, means it lures the occasional busload of vacationing locals. Escape the gradually growing throngs by tackling the short but strenuous climb to the top rather than driving straight to the viewpoint.
Where to stay Although basic park accommodation is available around the park, there are far more options in Chiang Mai. Crash at the new Akyra Manor Chiang Mai (doubles from £90) on a buzzy street west of the centre to enjoy some serious creature comforts before venturing into the wilderness.
Where to eat Accommodation near the park tends to have a basic restaurant catering for tour buses and groups. For something a notch better, head to SP Chicken (Samlan Road Soi 1), a simple restaurant in the historic centre of Chiang Mai, where the gai yaang (grilled chicken, about £2) is roasted on a spit over coals and served with a mouth-scorching dip.
Getting there: Fly from Bangkok to Chiang Mai with Nok Air (from £10), then rent a car. Foreign visitors have to pay a park entrance fee of about £4.
This article originally appeared on guardian.co.uk
This article was written by Diana Hubbell from The Guardian and was legally licensed through the NewsCred publisher network.